Baki Hanma, B the Beginning Succession, Resident Evil: Infinite Darkness y más.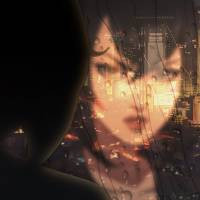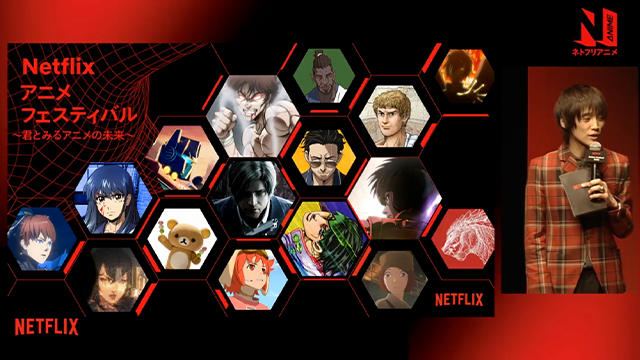 Desde Netflix celebraban su Netflix Anime Festival 2020 en el cual han revelado las novedades de anime de la paltaforma para el próximo año, un total de 16, y aunque muchos ya han tenido su entrada propia, aquí reunimos el resto de anuncios realizados.
Baki Hanma
La historia del padre y el hijo más fuertes regresará con su clímax en la tercera parte de la serie Baki Hanma, la cual se subtitulará "Son of Ogre" y se estrenará en la plataforma en 2021. El autor del manga original, Keisuke Itagaki, dibujaba una ilustración para la ocasión.
The most dysfunctional father-son relationship of all time reaches its climax when Baki Hanma faces off against the Ogre himself in next year's season of Keisuke Itagaki's brutal fight series! pic.twitter.com/Y0mEC8PmS8

— NX (@NXOnNetflix) October 27, 2020
B the Beginning Succession
La segunda temporada del anime B the Beginning se anunciaba durante la presentación, dejándonos Netflix las primeras imágenes de esta secuela llamada B the Beginning Succession.
También se confirmaba que Ichiro Kawasaki será el director de la serie bajo Production I.G, reemplazando así a Kazuto Nakazawa, quien se encargó de la primera. Nakazawa sí participará en el anime, aunque lo hará como supervisor, mientras que el resto del equipo y el reparto de la primera temporada regresará a sus puestos.
La serie tiene prevista su emisión en la plataforma el próximo 2021.
They might have solved their last case, but Keith and Koku aren't finished yet. Here's your first glimpse at B: The Beginning Succession's story of detectives and killers in a high-tech world, arriving next year. @ProductionIGinc pic.twitter.com/spcWDOFUh7

— NX (@NXOnNetflix) October 27, 2020
Resident Evil: Infinite Darkness
Anunciada el pasado mes de septiembre, Resident Evil: Infinite Darkness será una miniserie animada en 3D de la famosa franquicia Resident Evil de Capcom.
La historia estará protagonizada por Leon Kennedy y Claire Redfield, a quienes conocimos en Resident Evil 2, siendo Hiroyuki Kobayashi, el productor de la franquicia Resident Evil, el responsable de producir la miniserie.
La producción de animación será de TMS Entertainment, mientras que Quebico se encargarán de producir la animación en 3D como tal. Quebico es un nombre no completamente ajeno a la franquicia, y es que es el estudio que Kei MIyamoto, coproductor de Resident Evil: Vendetta, fundó en Tokio en 2017.
When biohazards run wild, only a pair of veteran zombie slayers can get the job done. Resident Evil: Infinite Darkness is a new original series set in the canon of @CapcomUSA_'s classic survival horror franchise @RE_Games, coming next year. pic.twitter.com/nuBKVgXuzp

— NX (@NXOnNetflix) October 27, 2020
Rikakkuma's Theme Park Adventure
Una nueva secuela de la serie de Rilakkuma de Netflix que bajo el título Rikakkuma's Theme Park Adventure contará con la dirección de Masahito Kobayashi y con animación de dward studios y San-X Co., Ltd.
Grab your tickets and get in line for a new series of stop-motion adventures with Rilakkuma and Kaoru! Join Rilakkuma, Korilakkuma, Kiiroitori, and Kaoru as they explore an amusement park in its closing hours when Rilakkuma's Theme Park Adventure arrives next year. pic.twitter.com/qU2qzSl7pH

— NX (@NXOnNetflix) October 27, 2020
Thus Spoke Kishibe Rohan
Las cuatro OVA del spinoff de JoJo's Bizarre Adventure protagonizado por Rohan Kishibe, uno de los personajes de Diamond is Unbreakable, llegarán a Netflix en 2021.
Recordemos que David Production se encargó de animar estos cuatro episodios y Takahiro Sakurai fue la voz de Rohan Kishibe como ya lo fuera en el anime para televisión.
To truly capture the ways of the world, this manga artist will scour the globe for inspiration! All four episodes of Jojo's Bizarre Adventure spin-off Thus Spoke Kishibe Rohan make their Netflix debut 2021. pic.twitter.com/cONOzo0d3B

— NX (@NXOnNetflix) October 27, 2020
Transformers: War For Cybetron Trilogy
Netflix anunciaba que la segunda temporada del Transformers: War For Cybertron de Rooster Teeth llegará pronto a la plataforma.
With the Allspark lost and Decepticons trapped on a dying Cybertron, Optimus Prime pushes the Autobots to the limit in the depths of space. EARTHRISE, the second chapter of the Transformers: War for Cybertron trilogy, is coming soon. @RoosterTeeth @Hasbro pic.twitter.com/up6g4Qt3QB

— NX (@NXOnNetflix) October 27, 2020
TRESE
TRESE es una nueva serie de animación creada en Filipinas y que tomará Manila como ambientación principal. Desde Netflix hacían hincapié en cómo el contar con creadores de aquella zona nos dará una perspectiva única de la ciudad.
Aswangs of Manila, beware: Alexandra Trese is coming for you. Enjoy this very first look at TRESE, coming soon on Netflix. ???????????????????????? pic.twitter.com/BpiRc6WhjQ

— Netflix Philippines (@Netflix_PH) October 27, 2020
Yasuke
Yasuke será una serie dirigida por LeSean Thomas y animada por MAPPA que contará con diseños de personajes de Takeshi Koike. Flying Lotus será responsable de producir la música.
Lakeith Stanfield será la voz de Yasuke, el protagonista, un ronin que viajará por un Japón feudal donde magia y robots se entremezclan mientras intenta llevar una vida en paz tras un violento pasado. Cuando una aldea se convierte en el centro de un alzamiento contra los daimyo, Yasuke tendrá que tomar nuevamente su espada y proteger a un misterioso niño que es el objetivo tanto de los deseosos de guerra señores feudales como de unas misteriosas fuerzas oscuras. La historia de Yasuke, el primer samurái africano que sirvió a las órdenes de Oda Nobunaga.
A village in danger, a mysterious child, warring daimyo, and the greatest ronin never known all clash in a Japan of magic and mechs. Learn the story of the first African samurai when LeSean Thomas's Yasuke, voiced by Lakeith Stanfield, arrives next year. pic.twitter.com/jCabzutMIv

— NX (@NXOnNetflix) October 27, 2020
El estado del anime en la plataforma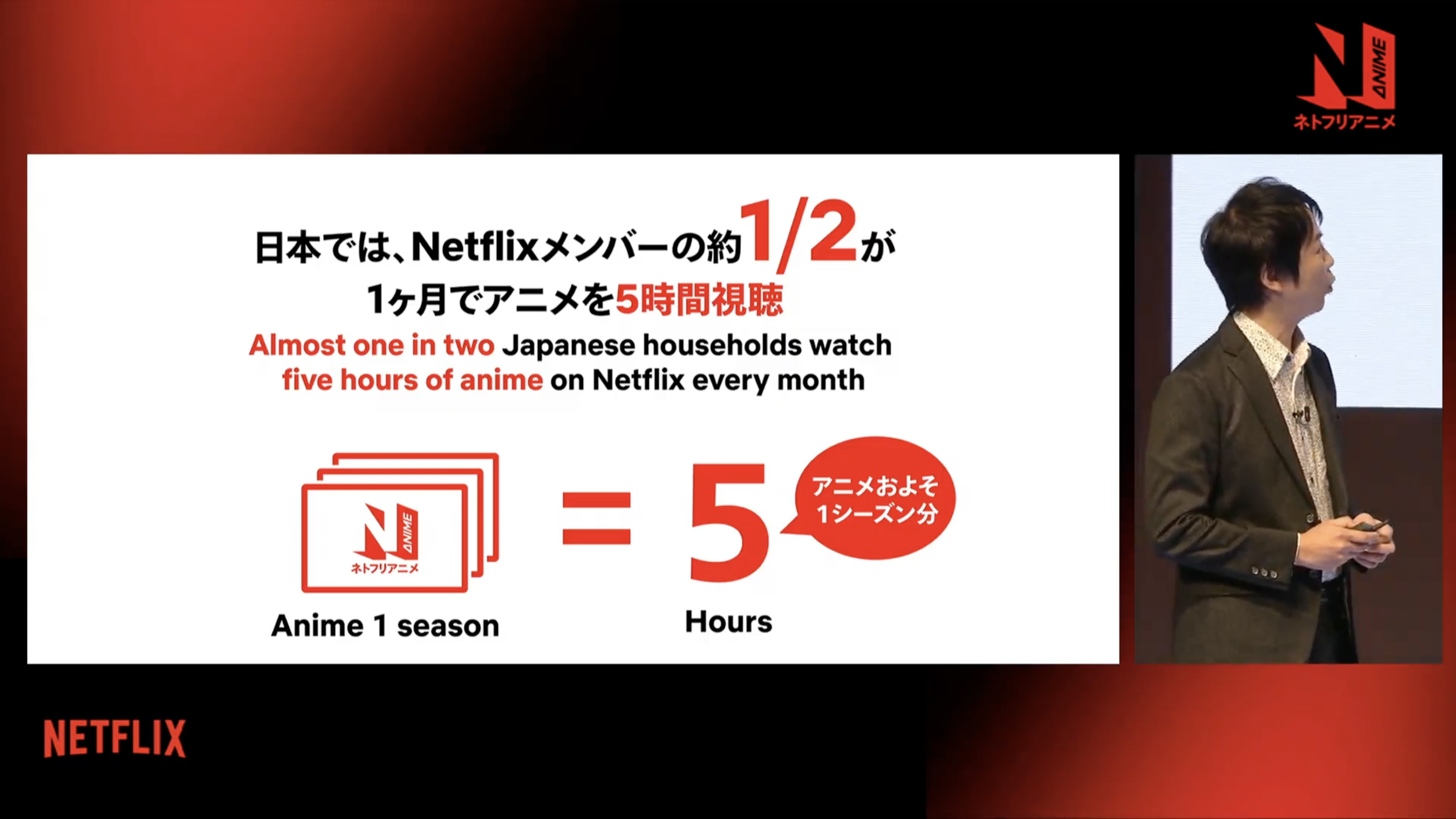 Netflix también hablaba del anime en su plataforma, comentando que más de 100 millones de hogares en cerca de 100 países ven su contenido de anime. En Japón, casi "1 de cada 2 hogares" ven al menos cinco horas de anime al mes, lo que equivale a una temporada de unos 12 episodios.