Turn your guildhouse into a special concert venue, too!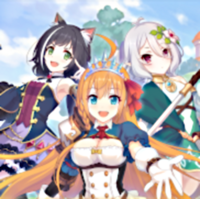 Heyas Knights! Having gathered plenty of information on events and campaigns to look forward to in the month of May, we've come to you to start a thread on all the details. No hemming and hawing - let's ease into it!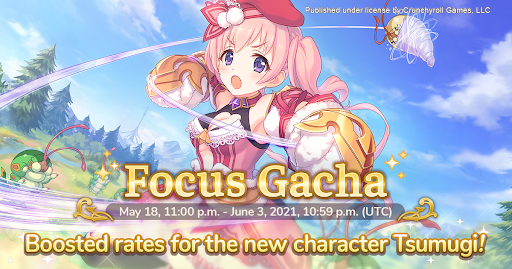 The chief seamstress for the Carmina guild, Tsumugi, is finally here! Voiced by Ibuki Kido, this charming idol is ready to weave her way into your team. Her Union Burst, Terminal Tie-Up, has one of the most unique effects in the game, dramatically altering the positioning of the opposing party. Combined with her other skills that are tailored for combat, she'll never seem stressed on the battlefield.
What's more, the other members of Carmina will also have an increased roll rate! This means you'll be more likely to catch one of Chika or Nozomi's performances - a perfect opportunity if you haven't had the chance yet. All three characters will also be available for redemption via character points, should you desire such an encore performance.
The Tsumugi Focus Gacha will run from May 18th to June 3rd. We apologize for all the sewing puns.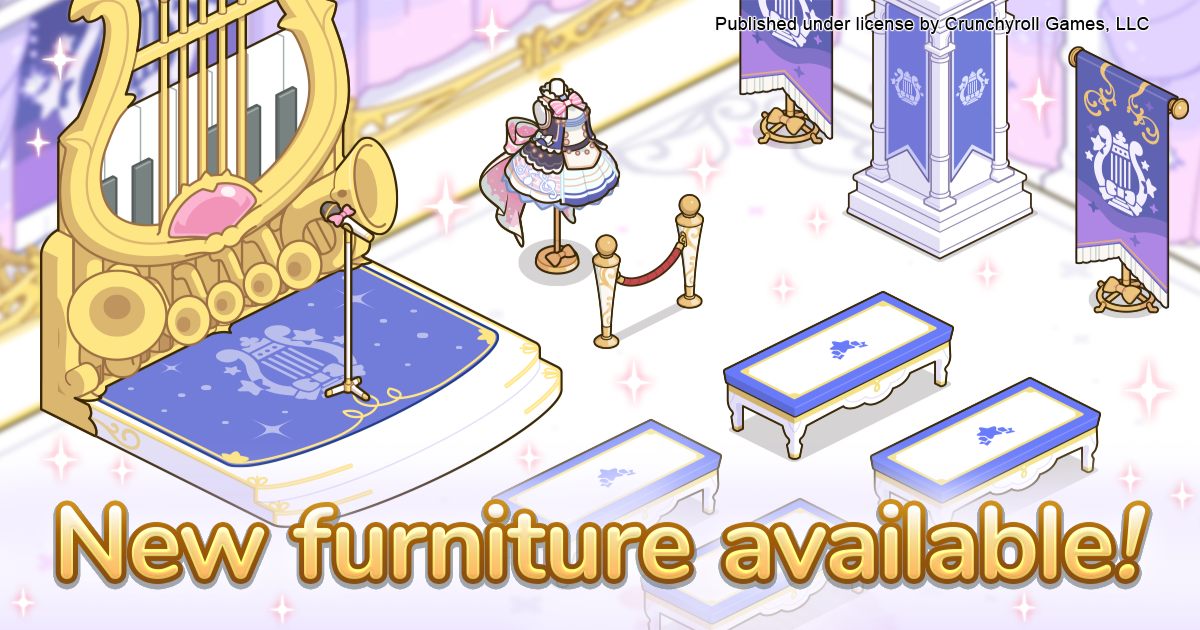 Get set to get sets, because we're also adding some new furniture! In theme with the new focus gacha revolving around Carmina, you'll be able to acquire various idol- and concert-themed furniture items, transforming your guildhouse from a base of operations to VIP seating for one of Landosol's most exclusive acts. Whether you're looking to create the perfect venue or the perfect line-up, the guildhouse is (still) your oyster.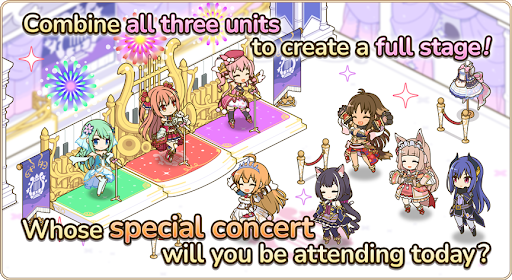 Like always, you can place the new furniture in your guildhouse to see your favorite girls interact with them. In particular, you might want to pay special attention to the new Symphonic Star Stage items! Just one of these items is enough to let the guildhouse's residents strut their stuff for the world to see, but if you place all three at once, you might just bear witness to something truly special - even if they aren't idols by trade!
The new furniture will be available starting from 5/18 23:00 UTC. Budget your Rupies accordingly! The full list of newly added furniture includes the following:
• Symphonic Star Stage (Main Unit)
• Symphonic Star Stage (Side Unit)
• Top Idol Costume
• Pearly Pillar
• Idol Group Hanging Banner
• Idol Group Wall Pennant
• Pearly Bench
• Rope Partition
• Stage Curtain Wall
• Idol Dance Floor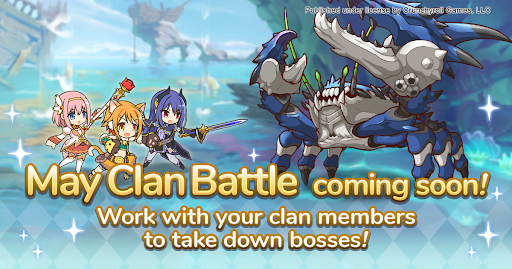 Rally your allies and plan out your teams - the May Clan Battle is coming, this time featuring giant enemy crabs. In Clan Battle, work with the aid of your fellow clan members to take on monsters too powerful for adventurers to handle alone. After the event is over, you'll earn precious Memory Shards, Clan Coins, and Jewels, depending on how well your clan did! The reward structure is the same as before, but you'll earn Io's Memory Shards this time.
The May Clan Battle will run from May 19th to May 24th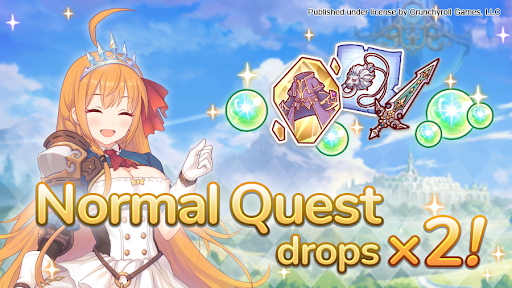 Picture this: you've just done a stamina refresh, and you're about to spend 12 skip tickets on a normal stage, hoping to get just three more Elemental Hearts to hit 30 shards and rank up another character.
You get two.
We've all been there. To help you get the resources you need, we're bringing back the Normal Quest Double Drop Campaign! During the campaign, you'll be blessed with two times the drops from clears of Normal Quest stages, meaning double mana and double item drops. There's no better time to obtain the items you need to rank up your characters, Knights! The Normal Quest Double Drop Campaign will last for nine days, from 5/19 13:00 UTC to 5/27 12:59 UTC.
Afterward, double drops will make their way to Hard Quests. We put our smartest researchers on the case, and they told us that there's solid evidence to support a 100% increase in Memory Shards, mana, and item drops throughout this campaign. Be sure to collect all the Memory Shards to increase that star power! The Hard Quest Double Drop Campaign will last for five days, from May 27th to May 31st.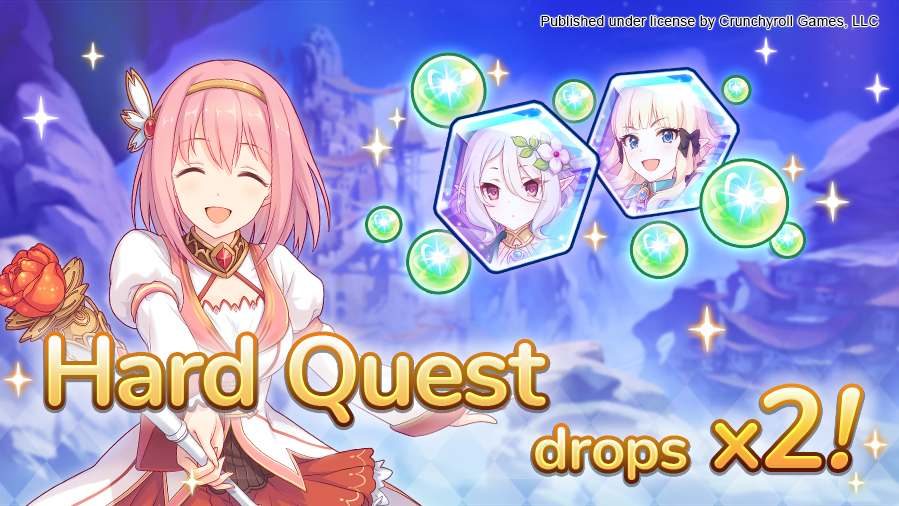 Included below is a summarized version of all the updates announced today, for easy reading and accessibility. Thank you for all your support, and we hope you continue to enjoy Princess Connect! Re: Dive!
See you in Astraea, Knights!
— Crunchyroll Games
*Note: All event details may be subject to change. Please check the in-game notifications at the start of the events for the full details.

Tsumugi Focus Gacha (5/18 23:00 UTC to 6/3 22:59 UTC)
Increased rate-ups for Tsumugi, Chika, and Nozomi.
Tsumugi, Chika, and Nozomi available for redemption.
New furniture available for purchase (available after 5/18 23:00 UTC)
May Clan Battle (5/19 13:00 UTC to 5/24 07:59 UTC)
Main Normal Quest Double Drop Campaign (5/19 13:00 UTC to 5/27 12:59 UTC)
Hard Quest Double Drop Campaign (5/27 13:00 UTC to 5/31 12:59 UTC)