Princess Forms! Princess Gala! Princess Connect! Re: Dive!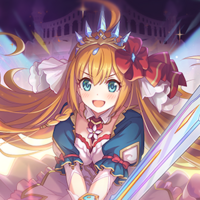 Heyas, Knights! Can you believe it's almost 2 years since we've started our adventures in Astraea? To commemorate the occasion, we've got a special, Princess-packed update bulletin for y'all today, complete with 2nd Anniversary events, campaigns, and plenty more. Let's dive on in!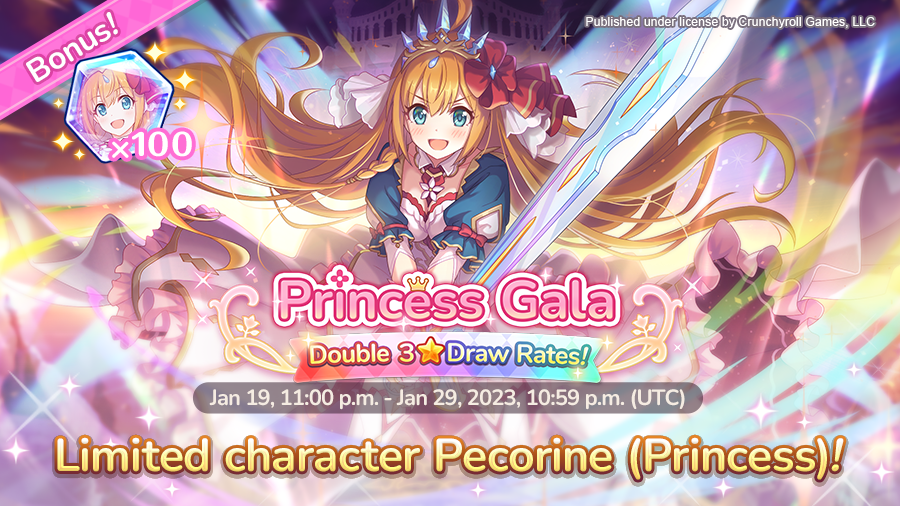 First debuting in the latter parts of the first chapter of Part 2 of the Main Story (what a mouthful!), say hello to Pecorine's brand new, super-powered Princess Form! This new class of alternate variants for characters really put their skills into overdrive, allowing them to perform at levels yet-unseen (both in-game and lore-wise). In Pecorine's case, her toolkit revolves around HP, as her stamina or damage increases greatly depending on how much HP she has remaining. Combine that with Pecorine's penchant for tanking hits, and you've got a major force to be reckoned with.
With such a special, Princess Form'd character like this, of course we're gonna give it some fanfare - that's why she's being paired with a Princess Gala! That's right: the doubled 3★ draw rates are back, and they don't mean business—or should we say, they have no business being this good! Not only will Pecorine (Princess) get the spotlight, but Neneka, Muimi, and Christina are also being added back into the rotation while the Princess Gala is active. All four characters will be available for redemption via character points, but you'll only get the bonus 100 Memory Shards if you obtain our newly minted Princess Form Pecorine. Keep in mind, though - as a Gala-exclusive character, Pecorine (Princess) will only be available during this Princess Gala, and won't be added to the Premium Gacha rotation after her time in the shine ends.
The Pecorine (Princess) Princess Gala runs for 10 days, from 1/19, 23:00 UTC to 1/29, 22:59 UTC. That's right - a whole 10 days of double 3★ draw rates. As the Gourmet Guild's leader would say: How crazy is that?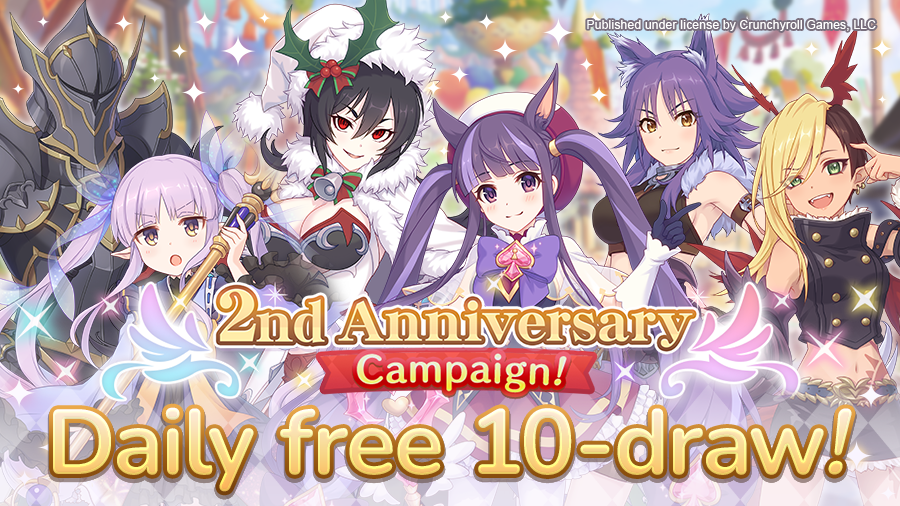 Even crazier might be the fact that the Princess Gala is paired with a special anniversary celebration that everyone can get behind - free daily 10-draws! That's right - akin to our 1-year and 1.5-year anniversaries before, we're pairing the Princess Gala with additional free draws that every Knight will be able to perform. The total campaign lasts for 14 days, starting on 1/19 (the first day of the Princess Gala!), so you'll be able to perform 140 total draws for free. That's a 22,500 Jewel value that you'd be crazy to miss. The jewel economy in Landosol is in shambles, and much like Pecorine on a good day, we're the fed.
The Daily Free 10-Draw Campaign runs for 14 days, from 1/19, 13:00 UTC to 2/2, 12:59 UTC.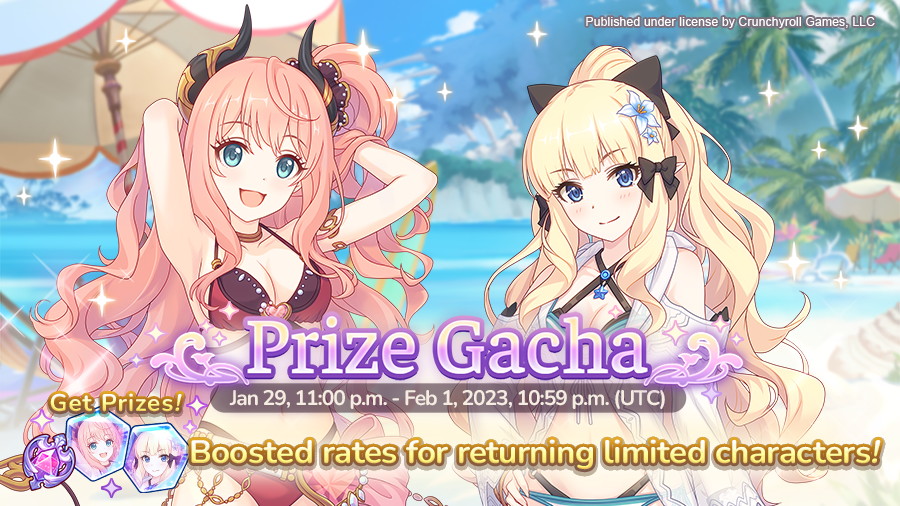 After the Princess Gala ends, we're bringing back some frequently requested summer-themed characters for a southern-hemisphere summer! That's right - it's the return of the Prize Gacha, featuring Suzuna (Summer) and Saren (Summer).
For the unfamiliar, when performing draws on a Prize Gacha, you'll first pick one of the highlighted characters in question - then, every time you perform a draw, you'll also get an additional entry into an additional gacha that can reward you with more Divine Amulets, Memory Shards of the chosen character, and other rewards! Plus, the characters in question will have increased draw rates, making this a great opportunity to round out your boxes (and your resources!) if necessary.
The Suzuna (Summer) & Saren (Summer) Prize Gacha lasts for three days, from 1/29, 23:00 UTC to 2/1, 22:59 UTC.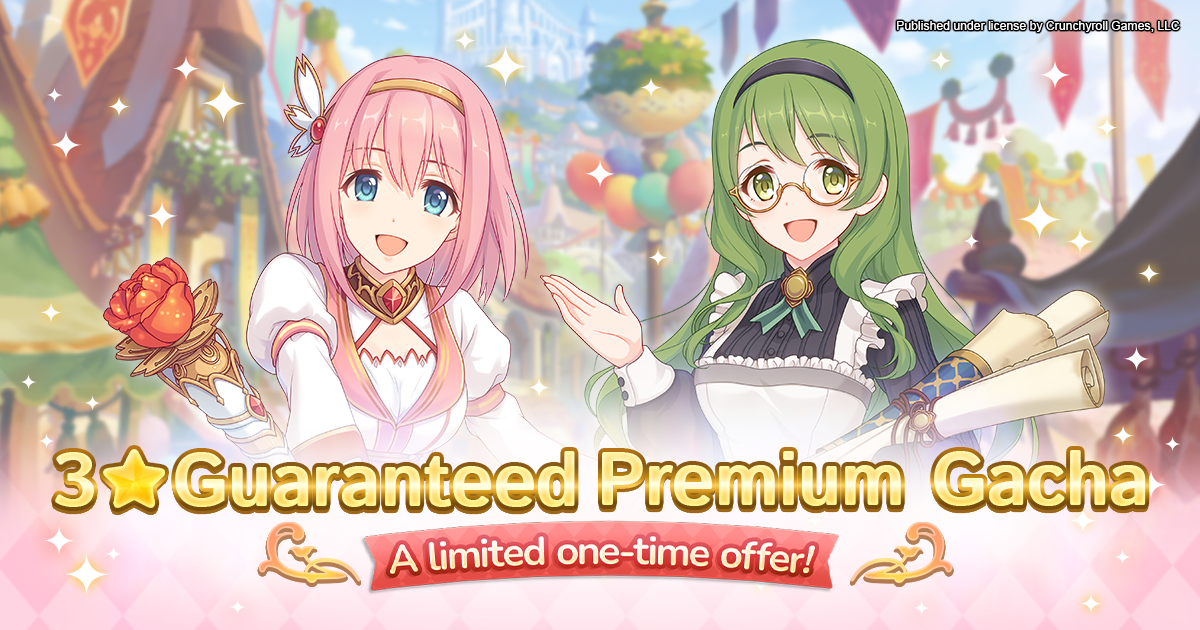 The reports of the 3★ Guaranteed Premium Gacha's death have been greatly exaggerated. The deal of the decade (or at least, the next week) makes its return, offering sweet deals and guaranteed rewards for the low, low cost of 1,500 Premium jewels. That's right - once during the campaign period, you'll be able to perform a 10-draw using Premium Jewels, with the added benefit of guaranteeing at least one 3★ encounter. Hard to beat a guarantee like that in this economy!
The 3★ Guaranteed Premium Gacha is back for six days, from 1/19, 23:00 UTC to 1/25, 22:59 UTC.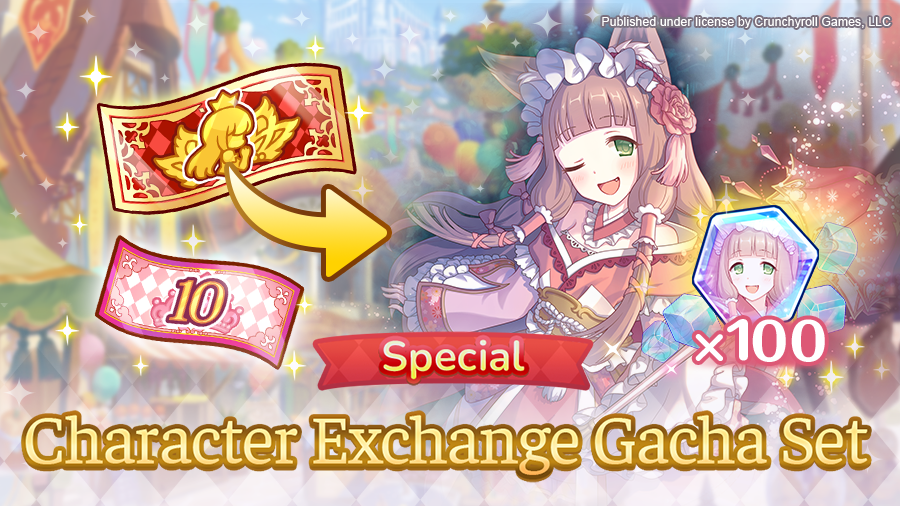 We've also got a brand new type of Gacha update for you, too! Introducing the new Special Character Exchange Gacha Set, a new item that'll be available for purchase in the Special Shop for a limited time. Buying this set gives you two things: a 10-Draw Gacha Ticket that will allow you to perform a 10-draw on any non-Premium Jewel-exclusive Character Gacha, and a Special Exchange Ticket that can be redeemed for any given 3★ character from a preselected list below. It's like winning the lottery, but getting to pick your prize - perfect if you've got one character that always seems to escape you. Plus, as an added bonus, you'll get 100 Memory Shards of the character you choose to redeem.
Here's the list of characters you can redeem with the Special Exchange Ticket: Anna, Maho, Rino, Hatsune, Io, Saren, Nozomi, Ninon, Akino, Makoto, Shizuru, Monika, Djeeta, Jun, Arisa, Kyoka, Illya, Tomo, Ruka, Kasumi, Anne, Grea, Kuka (Oedo), Ninon (Oedo), Aoi (Student), Chloe, Mimi (Halloween), Luna, and Kaya. Basically, if they're a non-limited 3★ character and they were in the Premium Gacha rotation for the majority of last year, they're probably available for exchange.
The Special Character Exchange Gacha Set goes on sale starting 1/19, 23:00 UTC, and sales will end on 1/29, 22:59 UTC. While the 10-Draw Gacha Ticket doesn't have an expiration date (meaning you can hold onto it indefinitely), the Special Exchange Ticket will expire on 2/4, at 12:59 UTC, so use it accordingly. Check out the in-game store for more details on pricing, as it'll vary by region.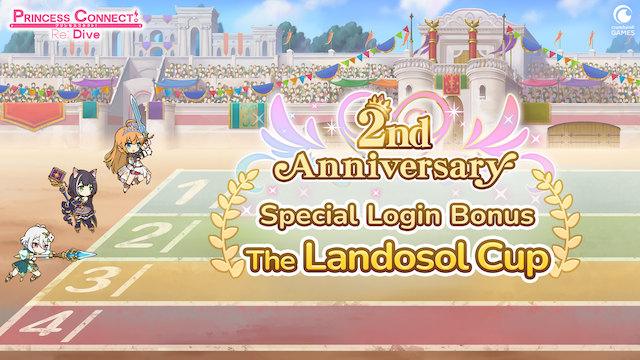 Finally, to wrap up this batch of 2nd Anniversary specialities, we've got everyone's favorite intense racing simulator - the Landosol Cup! Once per day during your first login of the day, you'll be presented with a choice of four heroines to pick from. Depending on how they perform in the race, you'll be rewarded with anywhere from 250 to 500 Jewels. That makes a possible total of 7,000 Jewels that you get just for logging in (which you should be doing anyway, to get those free 10-draws!).
The Landosol Cup is back for 14 days for its 2nd Anniversary Special Login Bonus edition, starting on 1/19, and ending on 2/2.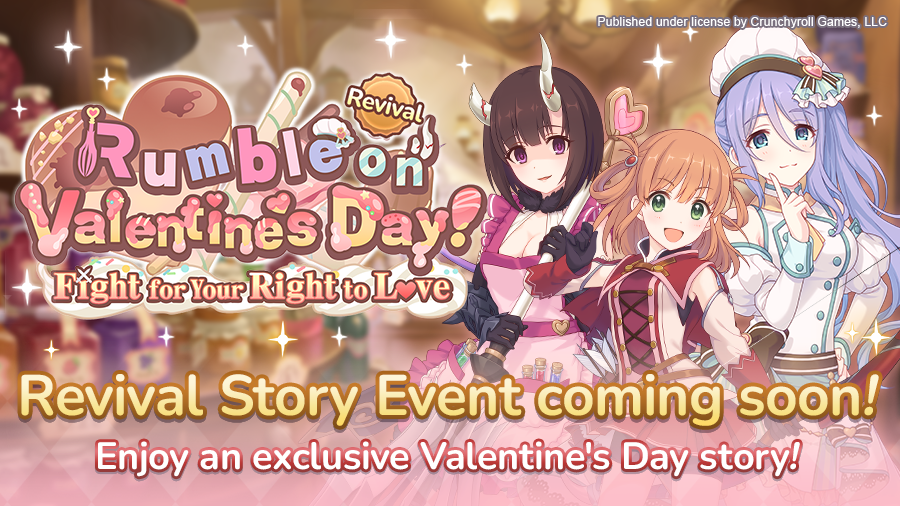 Love is in the air! Well, we're pretty sure it is love anyway. Watch as Eriko and Shizuru are in a battle for your love once again. It might not be an all-out war but there will certainly be some love, chocolate, and whatever else you can find in the kitchen stadium. Get ready to make the toughest decision of your life; it might just determine your entire future. That's right, it's time for the Rumble on Valentine's Day! Fight for Your Right to Love story event once again.
Whether you are here to read the story for the first time or to experience it all over again, you'll be in for a sweet treat or multiple, even. Not to mention, you'll be able to recruit Eriko (Valentine) for completing the Event Quests if you haven't recruited her already. You'll also be able to get 1.5x the usual Player EXP when completing Event Quests.
No matter the kind of baked good, you're in for a sweet treat as The Victory Medal Gacha lineup has also been revamped in our revival event. Take a look at the updated key rewards:
Lineup 1: 2 Sets of Rino's Memory Shards x 20
Lineup 2: 2 Sets of Eriko (Valentine)'s Memory Shards x 20
Lineup 3: 2 Sets of Rino's Memory Shards x 20
Lineup 4: 2 Sets of Eriko (Valentine)'s Memory Shards x 20
Don't miss out on this epic showdown as it will only be live from 1/18, 23:00 UTC to 1/25, 22:59. Let the battle begin!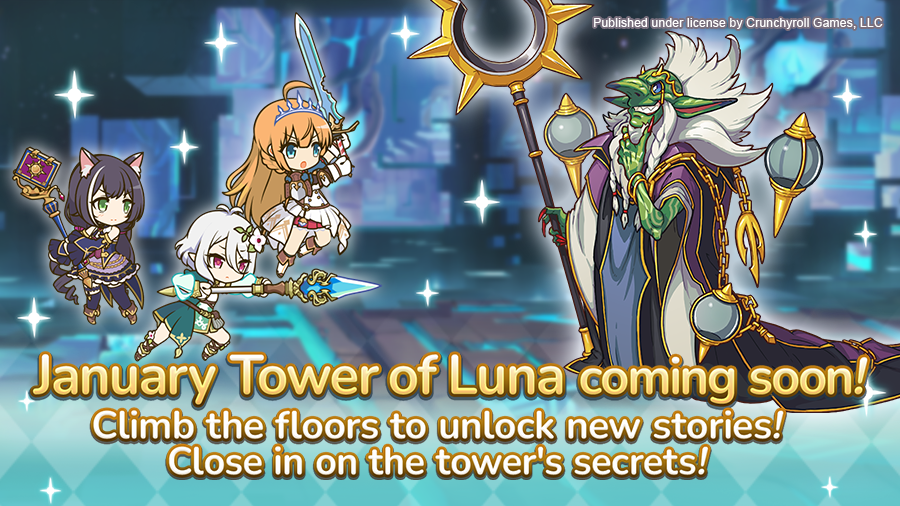 Time certainly flies when you're having fun. Hard to believe it has already been two years but one thing is for certain in January—it's time for the limited-time challenge to make a return: the Tower of Luna opens its doors once again for challengers to climb! The supercharged dungeon is back and it has prepared a new set of 10 floors complete with unique monsters, Shadows, and a new set of bosses to beat, with bountiful rewards for your troubles. Don't worry, your progress from the last Tower of Luna event is carried over and you can continue the ascent from the floor you left off. Remember, your party of characters can carry over between floors (assuming none of them hit 0 HP), and you can reset your characters to full HP once a day. Can you make the climb up to the 390th floor and complete the EX mission?
The Phantom Passage will also be making a stunning return. Once you complete the 390th floor, you'll be able to attempt the Phantom Passage, a challenging floor you can complete daily for additional prizes. Bring on the challenge!
The Tower of Luna reopens its doors for five days, from 1/18, 13:00 UTC to 1/25, 15:59 UTC. If you haven't done so already, you'll need to finish Main Story Quest 9-1 in order to access the Tower. We wish you the best of luck, adventurers!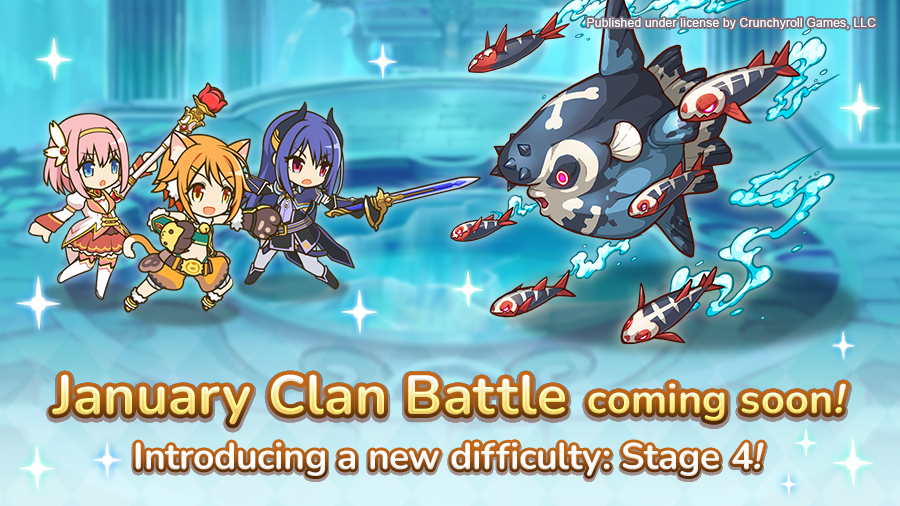 Torpedon is returning and ready to sink you and your teams. The Starbeast of Pisces has been plotting its revenge and only you can stop it. Rally your allies, plan out your teams, and start practicing those timelines, because the January Clan Battle is coming soon! Work with the aid of your fellow clan members to take on monsters too powerful for adventurers to handle alone. The January Clan Battle features a gauntlet of five bosses, and you'll be able to perform up to three clashes a day on whatever boss your clan's currently on, earning a clash attempt for every 300 stamina spent. After the event is over, you'll earn precious Memory Shards, Clan Coins, and Jewels, depending on how well your clan did! The reward structure is the same as before, but you'll earn Makoto Memory Shards this time around.
The January Clan Battle is around for seven days, from 1/26, 13:00 UTC to 1/31, 07:59 UTC. Squeeze in those 3 hits per day. Do it for your clan!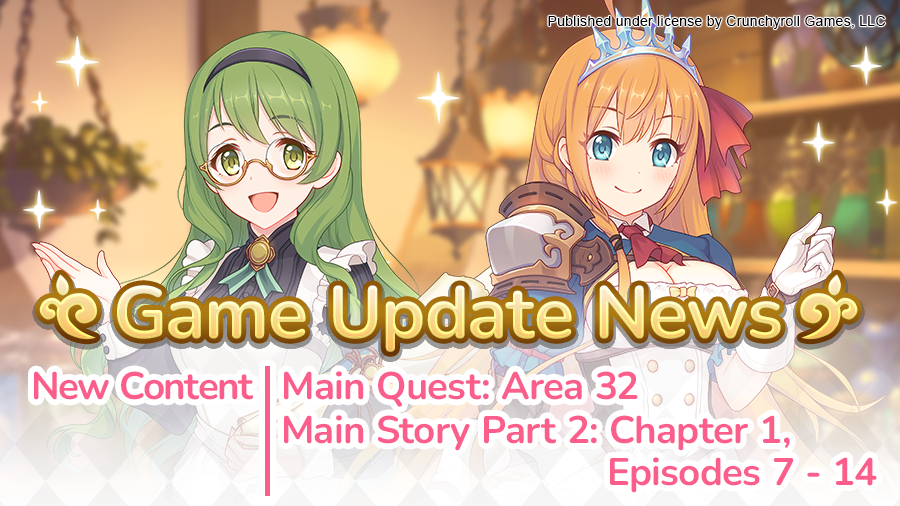 We're also releasing another new content update drop. First, clear your way through Fascia Forest (South), featuring new enemies, new challenges, and new rewards for your troubles. Here, you'll find new equipment that can raise your characters to a maximum of 4 equips at rank 16, as well as new Hard Quest nodes for Pecorine, Shiori, and Aoi (Student). Making your way through Area 32 will also unlock up to Episode 14 of Part 2 Chapter 1 of the Main Story. Learn more about Pecorine's brand-new Princess Form, and see how she is ready to make noise!
We'll also be increasing the level cap from 154 to 157. With so much content coming out at once, you'll want to start saving up Mana and EXP potions as soon as possible! In addition, new BGM will be added to the Memorial Jukebox for further customization.
The January content drop lands on 1/18 at 13:00 UTC.
Grotto Quest Level 9 will also be added on 1/19 at 13:00 UTC to help you further gather Mana and EXP Potions for your hungry heroines.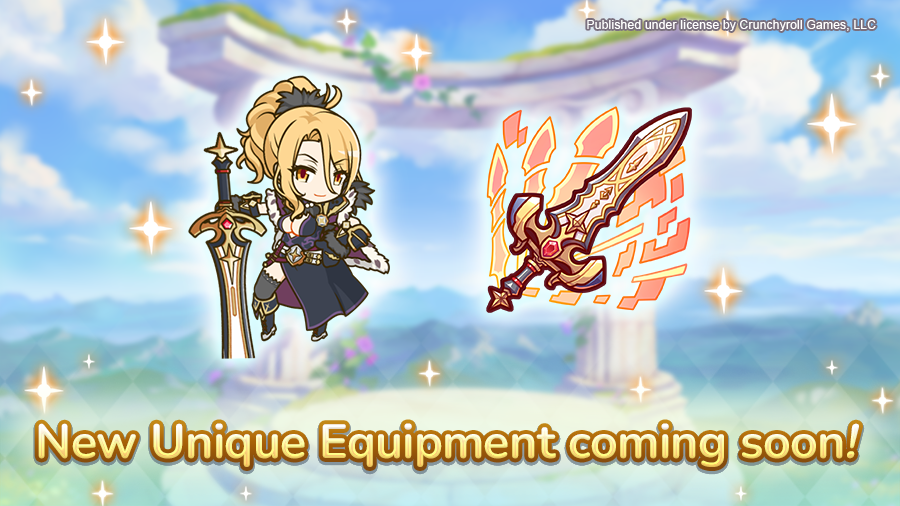 As if you could actually make Christina any more unique. Now is the perfect opportunity to do so with the release of Unique Equipment for Christina. With new Unique Equipment that increases both her TP and critical damage, you can certainly bring out the full power of the great Christina! Unique Equipment for Christina will be unlocked on January 19, 2022, after 9:00 UTC.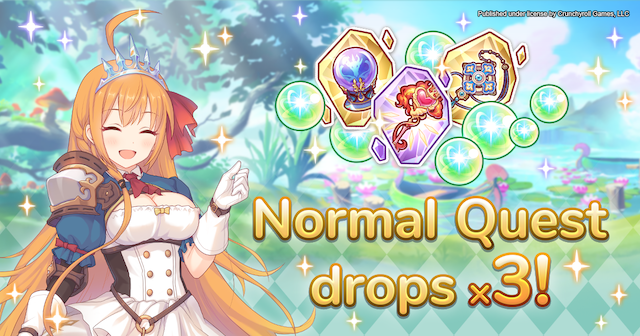 To further celebrate our second year, you're in for a bit of a treat. Maybe even a bit of a triple treat if you will. Get ready to farm your way through the various double-drop and triple-drops in our greatest campaigns yet.
First off, get triple the normal drops during the Normal Quest Triple Drop Campaign. Get triple the equipment, Mana, and other items when completing Normal Quests during the campaign period. This opportunity will only last from 1/19, 13:00 UTC to 1/27, 12:59 UTC.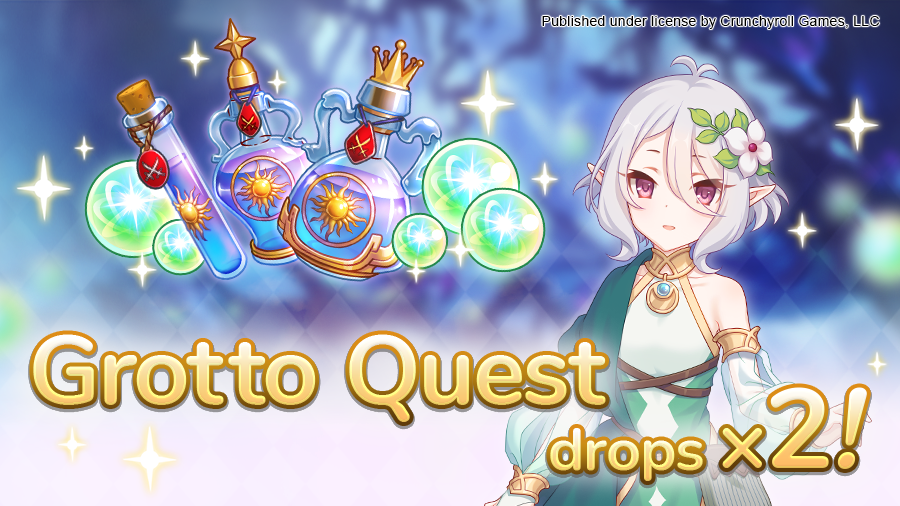 Get a sizable helping of 'grot-two'(pronounced two-key). Get twice the amount of Mana and EXP potions as you complete Grotto Quests during the Grotto Double Drop campaign. Make sure to not miss out between 1/20, 13:00 UTC to 1/25, 12:59 UTC.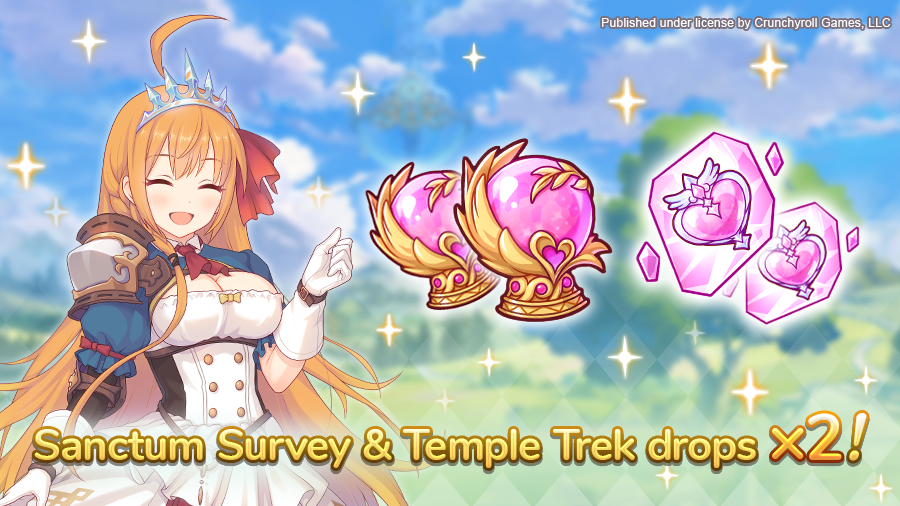 Double drops will then move into Sanctum Survey and Temple Trek. Stock up on items from here that will help unlock and refine your characters' maximum potential through their Unique Equipments and 6★ Ascensions! You'll be able to do so in doubling fashion as the campaign runs from 1/27, 13:00 UTC to 1/31, 12:59 UTC.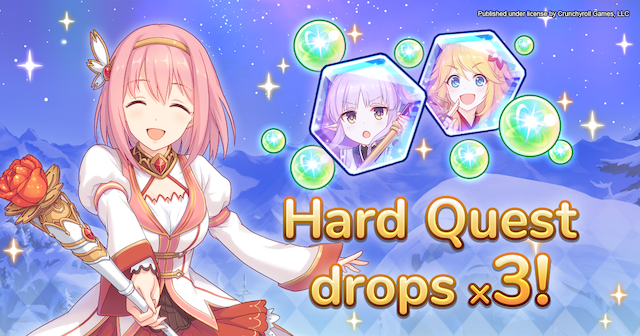 The fun doesn't stop there as we have one more campaign to raise your level of excitement by three times. Trust us! You won't want to miss out on Hard Quest Triple Drop Campaign where you'll be getting triple the Memory Shards, equipment, Mana, and other items when completing Hard Quests. Be sure to check it out between 1/29, 13:00 UTC, and 2/3, 12:59 UTC.
For easy reading and accessibility, included below is a summarized version of all the updates announced today. Thank you for playing Princess Connect! Re: Dive, Knights! These special promotions wouldn't be available without all of your support. We hope you continue to enjoy Princess Connect! Re: Dive!
See you in Astraea, Knights!
— Crunchyroll Games
*Note: All event details may be subject to change. Please check the in-game notifications at the start of the events for the full details.
Pecorine (Princess) Princess Gala (1/19 23:00 UTC to 1/29 22:59 UTC)

Boosted rate-up for Pecorine (Princess), also available for redemption via character exchange points.
Doubled draw rates for 3★ characters in the Pecorine (Princess) Princess Gala.
Christina, Muimi, Neneka, and Pecorine (Princess) are limited units and will only be available during the Princess Gala period.

Suzuna (Summer) & Saren (Summer) Prize Gacha (1/29 23:00 UTC to 2/1 22:59 UTC)

Boosted rates for Suzuna (Summer) and Saren (Summer), also available for redemption via character exchange points.
Suzuna (Summer) and Saren (Summer) are limited units and will only be available during the Prize Gacha period.
Obtain special prizes including Divine Amulets and Memory Shards when drawing this Prize Gacha.

Daily Free 10-Draw Campaign (1/19 13:00 UTC to 2/2 22:59 UTC)
3★ Guaranteed Premium Gacha (1/19 23:00 UTC to 1/25 22:59 UTC)
Special Character Exchange Gacha Set (1/19 23:00 UTC to 1/29 22:59 UTC)

A combo pack of a 10-Draw Gacha Ticket and a Special Exchange Ticket will be available for purchase in the Special Shop.
10-Draw Gacha Tickets do not expire and can be used on any Character Gacha that does not require Premium Jewels.
Special Exchange Tickets expire on 2/4 12:59 UTC, and can be exchanged for one of the following characters and 100 of their Memory Shards: Anna, Maho, Rino, Hatsune, Io, Saren, Nozomi, Ninon, Akino, Makoto, Shizuru, Monika, Djeeta, Jun, Arisa, Kyoka, Illya, Tomo, Ruka, Kasumi, Anne, Grea, Kuka (Oedo), Ninon (Oedo), Aoi (Student), Chloe, Mimi (Halloween), Luna, and Kaya. ww

The Landosol Cup (1/19 13:00 UTC to 2/2 12:59 UTC)
Story Event: Rumble on Valentine's Day! Fight for Your Right to Love Revival (1/18 23:00 UTC to 1/25 22:59 UTC)

Re-run of Rumble on Valentine's Day! Fight for Your Right to Love story event with modified rewards and challenges.
Event-exclusive Eriko (Valentine) can be obtained.
Event missions give 1.5x experience.

Tower of Luna (1/18 13:00 UTC to 1/25 15:59 UTC)

Unlocked after completion of Main Story Quest 9-1.
Complete each floor for rewards.
Reset your teams back to full health daily.
Progress made during this month will carry over towards future Tower of Luna events.
Floors 381-390 and EX Floor 390 unlocked.
Clearing Floor 390 allows you to attempt the Phantom Passage.

January Clan Battle (1/26 13:00 UTC to 1/31 07:59 UTC)
January Content Update (1/18 13:00 UTC)

Main Quest Area 32 unlocked.
Level cap increased from 154 to 157.
Character equipment cap increased from 16-3 to 16-4.
Part 2 Chapter 1 of the Main Story unlocked, up to Episode 14.

Grotto Quest Level 9 added. (After 1/19 13:00 UTC)
Normal Quest Triple Drop Campaign (1/19 13:00 UTC to 1/27 12:59 UTC)
Grotto Quest Double Drop Campaign (1/20 13:00 UTC to 1/25 12:59 UTC)
Sanctum Survey & Temple Trek Double Drop Campaign (1/27 13:00 UTC to 1/31 12:59 UTC)
Hard Quest Triple Drop Campaign (1/29 13:00 UTC to 2/3 12:59 UTC)