Yuyushiki, Oreimo, Madoka, Nyaruko-san, K-ON!, and many more!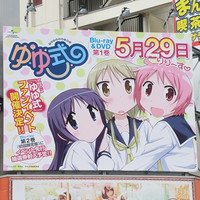 Every time I visit Akihabara, the Mecca of Otaku in Tokyo, the street changes its looks with the latest anime/manga/game trends and the newest series. On the other hand, I can find that each specialized store has its own taste. Now Gamers features Ore no Imouto ga Konna ni Kawaii Wake ga Nai., Nana Mizuki, Yukari Tamura, Toranoana displays Fate/EXTRA and Aki Toyosaki, Softmap has a big Puella Magi Madoka Magica the Movie ad, and JR Akihabara shows a Yuyushiki billboard within the station premises. Check the newest look of the Akihabara town!!
*all of the photos were taken by Mikikazu Komatsu
"Yuyushiki" Blu-ray/DVD ad in the JR Akihabara station
"Mobile Suit Gundam" Blu-ray Box
PC game "Senjin Otome"
"Steins;Gate: Fuka Ryouiki no Déjà vu" poster
"Magical Girl Lyrical Nanoha" spinoff mangas "Innocent" and "Vivid"
The west side of the JR Akihabara station
SEGA's Akihabara store displays its latest and up-coming game prizes
"To Heart 2"
"K-ON!"
"Nichijou"
"Accel World"
"Sword Art Online"
Oreimo's Kirino and Kuroneko are working as advertising managers of SEGA Prize
SEGA Prize's upcoming premium figure "Kirino Kosaka: nexus jacket ver."
"Haiyore! Nyaruko-san W" wall ad
Gamers Aihabara main store
"Ore no Imouto ga Konna ni Kawaii Wake ga Nai." Blu-ray/DVD
Nana Mizuki & Yukari Tamura's live Blu-ray/DVD
Gamers also features Nana Mizuki & T.M.Revolution's collaboration single "Preserved Roses" at the entrance
"Puella Magi Madoka Magica the Movie" Blu-ray/DVD on Sofmap Amusement Store
"Yuyushiki"
"Gargantia on the Verdurous Planet"
Comic Toranoana Akihabara main store
"Fate/EXTRA"
Voice actress Aki Toyosaki's 8th single "Flip Flop"
"Shin Megami Tensei IV"
Illustrator Kurehito Misaki's new art exhibition
"The [email protected] Million Live!" x Karaoke shop ADORES collaboration campaign
VOLKS Akihabara SR Hobby Tengoku
VOLKS' "K-ON!" Ichibankuji prizes display
Free magazine "Radikan" May 2013 Extra issue featuring "Haiyore! Nyaruko-san W"
Tokuma Shoten's new free magazine "Akimage" vol.1
---
Archive:
FEATURE: Anime/Game Street Ads in Akihabara: April 2012
FEATURE: Anime/Game Street Ads in Akihabara: May 2012
FEATURE: Anime/Game Street Ads in Akihabara: August 2012
FEATURE: Anime/Game Street Ads in Akihabara: October 2012
FEATURE: Anime/Game Street Ads in Akihabara: November 2012
FEATURE: Anime/Game Street Ads in Akihabara: December 2012
FEATURE: Anime/Game Street Ads in Akihabara: March 2013