The cute and stylish mobile game turns into a cute and stylish anime!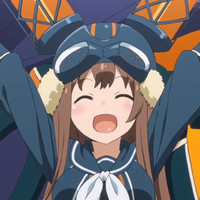 Mobile games have taken over Japan. It's unusual to spend a day in Tokyo without somehow running across an ad for Cygames' Granblue Fantasy or finding a poster for Aniplex's Fate/Grand Order. Bolstered by their great art and simple mechanics, millions of Japanese gamers are installing these free-to-play apps and sinking hundreds of hours into collecting characters and progressing through their stories. The difficult question at this point, however is: How do you adapt it into an anime?
Every entertainment producer dreams of creating a media mix: a singular brand where all of its different forms across many different media constantly work to promote each other. However, the main thing complicating this is a process of adaptation where you don't want to use the exact same story, but want it to at least be recognisable. This was the challenge put on front of Last Period producer Kosuke Matsuda (Seen below realised in the game itself).
"Oh, looks like I'm just as popular as ever" - MatsudaP
The solution he came up with was to try and keep the art style elements that he describes as "cool and cute" as a consistent across all forms of Last Period media, whilst changing up the stories in different ways. Most popular mobage invite talented guest artists to create the art for different characters, but Last Period considers its style to be such a significant asset that everything is produced in-house by the artist "whoopin" who aimed to make the characters appear both cool and cute. Although the characters don't show much skin, the anime's producer Nobuhiro Osawa remarked that the designs still ended up being "pretty sexy". With that said, however, the biggest asset to the game's designs were that they were easy to animate from the start.
From the very start, Last Period was envisioned to be adapted into an anime and eventually they found a partnership with animation production firm EGG FIRM and animation studio, J.C Staff. Although the game was to be launched in 2016, 2 years before the TV series was launched, the anime staff produced this short opening animation as a teaser for what was to come.
Based on his work directing The Familiar of Zero and Love Hina with primarily female casts, Yoshiaki Iwasaki was proposed to direct the Last Period anime series. At the same time, JC Staff recommended that one of their own in-house animators, Mika Takahashi should design the characters for animation. Upon seeing his anime designs, the original developers were impressed with how he'd managed to capture the bright expressions of the original art.
With Last Period, we can expect something generally bright, joyful and not afraid to make fun of itself. Whilst they recognise that there are some things that fans of the game want to see, such as the fan-favourite Iona (who manages the gacha system) and the Wiseman group (whose voice actors will be launching their own radio show called "Wiseman's Secret Base"), they are much more concerned with making a comedy fantasy series that anyone can enjoy and hope that fans of the anime will give the game a try. They will even be adding the anime original character Ruruna to the game.
The Last Period anime has been three years in the making, starting in 2015 when they first decided to work with JC Staff and EGG FIRM on this media mix. Since then, the Last Period game has been installed over one million times, even though the anime hasn't been released yet. Both the game and the anime are inherently appealing from just a single glance and after playing the game and witnessing the charm that the franchise brings, I really hope that it does well.
Even with a million installs, it's still considered fairly niche in regards to the titanic mobile game market and it'll take a lot of enthusiasm from fans outside of Japan to get the mobile game localised into English. A media mix is an ambitious thing and shows an immense amount of confidence from the staff that this will be the next best thing. And with the expressive art and fun dialogue, I can't wait to watch it and find out.
---
Callum May is on an unending quest to make the anime industry seem cool and interesting. You can follow his journey on The Canipa Effect Youtube channel or follow his Twitter.