The banhammer drops on Japan's biggest otaku event of the year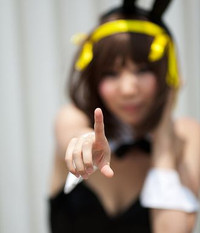 With the dust still settling from last weekend's World Cosplay Summit in Nagoya and this weekend's massive Comic Market (AKA Comiket) now looming on the horizon, you would think now would be a great time to be a cosplayer or a photographer thereof. But now, mere days before the show's opening on Aug/12, Comic Market has revised their restrictions for cosplayers at this year's Comiket.
Sankaku Complex offers the following translation of the new rules as described by the Tokyo Sports newspaper:
[Under the new rules] any costume with visible underwear or genitals is banned, as well as anything which greatly emphasizes the genital region. Not wearing underwear is also banned. Anyone wearing swimwear must also wear supporters or underwear.
The revisions are severe, but the biggest change is this:
"For the chest, the standard is for no more than a third of the skin to be uncovered, and for no underwear to be visible (for women only)."
The new rules, aimed at avoiding "the possibility of public indecency", seem to be part or a larger government-led crackdown in Tokyo on sexually explicit materials and activities in otaku culture. CrunchyNews will be reporting from Comic Market this weekend and we'll let you know if the new rules have any impact on the cosplay there.
In the meantime, what do you guys think? Is Comiket right to "ban the sexy"? And how would you feel if the conventions in your neck of the woods did the same thing?