"Shining Blade" to be released Spring 2012 for PSP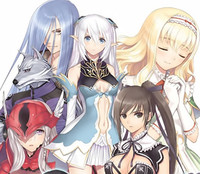 Update 3 (12/14/2011): An anime adaptation has been announced for Shining Hearts, animated by Production I.G. Most of the complete original post has been since revealed to be true leading it to be suspected that the post was an insider leak based on non-finalized information. The original article has been changed so that unconfirmed portions are underlined and false portions are now struck out.
Update 2 (11/19/2011): The December issue of Famitsu, on sale November 17th, has confirmed that there is an additional main heroine named Sakuya, who is voiced by Nana Mizuki. (Source: Famitsu.com)
Update/Retraction (11/7/2011): It has been determined that the article for Shining Blade in this week's Weekly Shonen Jump did not contain any of the supposed announcements mentioned in the source, including those included in the article below. The original 2ch post the information is based on had been posted on many aggregation sites. However, none of the sites have yet posted any updates or retractions. Thus, the validity of the underlined information below is entirely unknown and is currently considered a partially fake rumor with no source. An apology to our readers and fans whose hopes may have been gotten up. The article appears below in its original form with the unconfirmed information underlined:
Early sales copies of next week's Weekly Shonen Jump have revealed that the latest Shining series games will be getting a TV anime adaptation. The TV anime adaptation will be titled Shining Blade x Hearts. Anime production is by Production I.G. with the same staff as the Sakura Taisen anime.
Shining Blade is the already announced next game in the Shining series which will be released in Spring of 2012 for the PSP in Japan. This issue of Weekly Shonen Jump also reveals that Sega's Valkyria Chronicles team is developing the game and the main female character Sakuya will be voiced by Nana Mizuki. Shining Hearts is the previous installment in the Shining series which was released in 2010 for the PSP and is getting a priced down re-release in December of this year in Japan.
via Yaraon!
Image ©Sega