Completion Planned for Summer 2013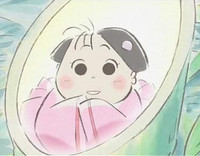 It's been a while since there has been anything more substantial than talk and rumors about a new anime film from Studio Ghibli co-founder Isao Takahata, but fresh signs of life have finally sprung up on the Grave of the Fireflies director's long gestating project.
Studio Ghibli's site has posted job listings to recruit assistant directors and production assistants for an Isao Takahata directed movie, scheduled to be completed in summer 2013.
Back in 2009, Ghibli World reported that Studio Ghibli co-founder Isao Takahata's (Grave of the Fireflies, Pom Poko) first movie since his water color style adaptation of family comic strip My Neighbors the Yamadas would be a retelling of 10th century Japanese folktale Taketori Monogatari (The Tale of the Bamboo Cutter)—the story of moon princess Kaguya-hime, discovered as a baby inside the stalk of a glowing bamboo plant.
In May of this year, GhibliWiki wrote that Ghibli producer Toshio Suzuki's radio show mourned the passing of NTV CEO Seiichiro Ujiie. The show spoke to Ujiie's history supporting the Ghibli Museum, his relationship with Isao Takahata and mentions:
On December 20 of last year, when one-third of the storyboards of Kaguya Hime were completed, he read it. His first impression was "Kaguya-Hime is a selfish girl. I like this girl."
via @tsk06