Kotobukiya schedules Luffy, Chopper and pirate ship trays for April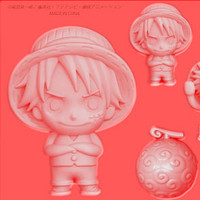 Kotobukiya, best known for their figure releases, will be following a series of Star Wars ice trays ("you can't rightly call them "cubes" when they're shaped like Han Solo in carbonite) with trays based on the Alien movies in February, before going less sci-fi and more local in April with One Piece.
The trays sell for ¥1,050 (about US$13) each. Kotobukiya has been importing the Star Wars trays to North America, and given their domestic Alien releases, seem likely to bring those over as well. They have not previously imported any One Piece merchandise.