Capcom details TP and a bunch of other movie tie-in products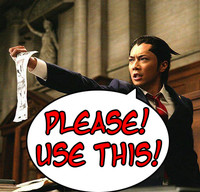 Takashi Miike's Ace Attorney film is hitting Japanese theaters on February 11, and Twitch already has an English review. But what we really need is some Ace Attorney toilet paper, right? Wipe away all things unfit for the courtroom, and check out the rest of the movie goods below.
The toilet paper is priced at ¥420/roll (about US$5.50), and is covered with some classic Phoenix Wright catch phrases. I'm sure the greatest of emergences will overrule any of his "objections," though.
Taiho-kun Stuffed Mascot (¥780 / US$10.50)
Taiho-kun Pass Case (¥750 / US$10)
Character Stickers (¥450 / US$6)
Face Towel (¥1,260 / US$16.50)
iPhone Cover (¥1,200 / US$16)
Talking Pen (¥750 / US$10)
Andriasang has a few more items on display in celebration of the movie's opening, but I think we all know this case begins and ends with a brightly wrapped roll of TP.