Kid favorites like "Anpanman" top the list. Fan favorites place low.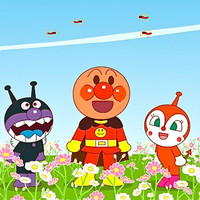 The list below gives the ranks of the top twenty highest grossing characters in Japan in the year 2011. Although it says "character," it doesn't necessarily count each character separately. Most are listed by shows or franchises such as Anpanman, Pokémon, and the Gundam series. But some others are listed by character such as Mickey Mouse being separate from Minnie Mouse.
The characters in order are as follows:
1. Soreyuke! Anpanman
2. Pokémon
3. Mickey Mouse
4. Hello Kitty
5. One Piece
6. Pretty Cure series
7. Rilakkuma
8. Winnie the Pooh
9. Super Mario Series
10. Peanuts
11. Gundam series
12. Kamen Rider (OOO)
13. Kaizoku Sentai Gokaijer
14. Minnie Mouse
15. Thomas the Tank Engine
16. Miffy
17. Tamagocchi
18. Duffy (The Disney Bear)
19. Cars
20. Kamen Rider Fourze
The list features pink for TV Anime based characters, blue for foreign characters, green for original characters (characters created before any anime or other uses), orange for "tokusatsu"- (live action FX-style series) based characters, and gray for game-based characters.
Like last year, Anpanman, Pokémon, Mickey Mouse and Hello Kitty all took the #1 - #4 spots respectively. One Piece rose to #5 from #8 last year, and because of that, Winnie the Pooh, Rilakkuma and Pretty Cure all lost a spot.
This list is based in large part on the money made through licensing, so kid-oriented or family-oriented series are king. Anime aimed at older fans, where the anime itself is the greatest draw, didn't fare as well on the list. For example, Madoka Magica came in at #59, To Aru Majutsu no Index was #63, Sengoku Basara was #80, The Melancholy of Haruhi Suzumiya was #91 and Natsume's Book of Friends was #98.
Let us know what you think of the list!