His newest film "Kaze Tachinu" hits Japanese theaters in this summer.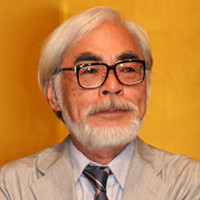 After 5 years since his last film Ponyo in 2008, a 72-year-old internationally acclaimed anime director Hayao Miyazaki is now working on his newest film Kaze Tachinu (The wind has risen), which depicts the life of Jiro Horikoshi, the designer of the famed Japanese World War fighter plane "Zero." The official name "Mitsubishi A6M Zero" was a long-range fighter aircraft operated by the Imperial Japanese Navy Air Service from 1940 to 1945. Many Japanese films, manga, and anime focused on the fighter and its pilots have been produced.
The only one Zero fighter in the world that is capable of flying is now exhibited at Tokorozawa Aviation Museum in Tokorozawa-city, Saitama. In the latest report by Saitama Shimbun, Toru Shirasuna, the business section manager of the museum, revealed that he had an opprtunity to talk with Miyazaki, and was told that Miyazaki's father owned a company which delivered the parts of Zero
to Nakajima Aircraft Company. Nakajima produced many Japanese military planes including Zero during
the war period. And he also said that Miyazaki actually tried to purchase a real Zero fighter for 300 million
yen (about US$3.23 million) before, but gave up the idea after being scolded by his wife.
The last Zero fighter at Tokorozawa Aviation Museum
"Kaze Tachinu" poster
Source: Saitama Shimbun via Nuruota ga Kiru
Zero fighter photo © Saitama Shimbun
Kaze Tachinu image © 2013 Nibariki GNDHDDTK