35 female representatives of the upcoming season at a glance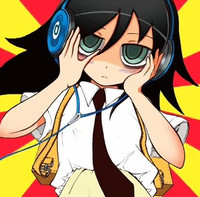 Here's a fun way to prejudge the upcoming anime season at a glance. 35 heroines of summer 2013 series have been assembled in a grid.
See what impression the full collection suggests...
A1 Monogatari 2nd season
A2 Rozen Maiden
A3 Highschool DxD New
A4 Symphogear G
A5 Gatchaman Crowds
A6 Teekyuu
B1 Fantasista Doll
B2 Tamayura More Aggressive
B3 Stella Jogakuin Koutou-ka C3-bu
B4 Hyperdimension Neptunia
B5 Kitakubu Katsudo Kiroku (Go Home Club)
B6 Recorder to Randoseru 2,
C1 Free!
C2 Kiniro Mosaic
C3 Danganronpa
C4 The World God Only Knows: Goddess Hen
C5 Watamote
C6 Senyu
D1 Silver Spoon
D2 Love Lab
D3 Fate Kaleid Liner Prisma Ilya
D4 Genshiken 2nd Generation
D5 Brothers Conflict
D6 Hakkenden: Eight Dogs of the East
E1 Uchoten Kazoku
E2 Genei wo Kakeru Taiyou (Il Sole Penetra le Illusioni)
E3 Blood Lad
E4 Inu to HASAMI wa Tsukaiyou
E5 Gifuu Doudou!! Kanetsugu to Keiji
E6 Makai Oji: Devils and Realist
F1 Servant x Service
F2 Ro- Kyu- Bu SS
F3 Kamisama no Inai Nichiyoubi (The Sunday without God)
F4 Kimi No Iru Machi (A Town Where You Live)
F5 Futari Wa Milky Holmes
-------
Scott Green is editor and reporter for anime and manga at geek entertainment site Ain't It Cool News. Follow him on Twitter at @aicnanime.