Ships in June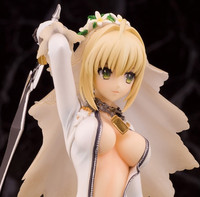 Figure and model company Alphamax is currently offering preorders for their figure of main character Saber from video game "Fate/Extra CCC".
Dungeon crawling RPG "Fate/Extra CCC" is the companion game to "Fate/Extra", itself a spinoff game of Type-Moon's visual novel "Fate/Stay Night". The 1/8th scale, 22-centimeter-tall figure depicts main character Saber dressed in a white outfit resembling a bride's dress. The figure is rendered in exacting detail, from the locks and chains around her neck and wrists to the zippers on her outfit.
The figure was created by sculptor MOON. Preorders will be accepted until February 12th, and orders will ship in June. It retails for 10,800 yen.