The volleyball-themed new TV anime will be premiered on April 6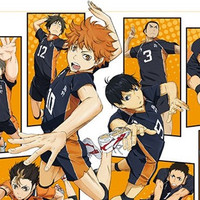 It is officially confirmed today that SPYAIR and NICO Touches the Walls will perform the theme songs for the upcoming TV anime adaptation of Haruichi Furudate's volleyball-themed sport manga Haikyu!!. SPYAIR provides the OP song "Imagination" and the CD single will be released on April 30 as their 14th single. The four-member rock band has released many anime theme songs such as "My World" (6th single/Mobile Suit Gundam AGE 2nd ED), "Sakura Mitsutsuki" (10th single/Gintama 5th season OP), and "JUST ONE LIFE" (13th single/Samurai Flamenco OP).
NICO Touches the Walls was formed in 2004 and have so far released 14 singles. Among the anime fans, they are famous for their three theme songs for the Naruto Sippuden TV anime: "Broken Youth" (6th ED), "Diver" (8th OP), and "Niwaka Amenimo Makezu" (13th OP). The Haikyu! TV anime produced by Production I.G (Ghost in the Shell, Kuroko's Basketball) is scheduled to be premiered in Japan on April 6.
SPYAIR artist photo
© Sony Music Associated Records Inc.
NICO Touches the Walls artist photo
© A-Sketch
"Haikyu!" anime key visual
© Haruichi Furudate/Shueisha, "Haikyu!!" Production Committee
Source: Natalie