Plus a survey of other upcoming "Kurobas" releases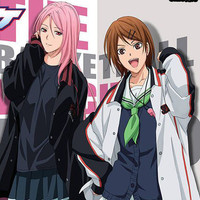 This year's issue 27 of Shonen Jump, on sale in Japan June May 2nd, reveals that a third Kuroko's Basketball anime has been planned. Timing and other details have not been announced.
「黒子のバスケ」アニメ第3期の制作が決定しました!桐皇、陽泉を破って、ウインターカップ準決勝へとコマを進めた誠凛。黒子たちの軌跡を追って、アニメも着実に前進しています。これはすべてたくさんの応援をいただいたおかげです。第3期もよろしくお願いします!(赤)#kurobas

— アニメ黒子のバスケ (@kurobasanime) June 1, 2014
Volume 27 of the manga is due July 4th.
Volume 6 of the last anime is due June 20th
Starting June 10, Megahouse and Bandai Premium are taking orders for a black uniform version of Kuroko Tetsuya for release in September. The 18cm figure sells for 8648 yen.
There's also a set of uniforms from Bandai Preium, set to be released in September for 8425yen each