Original collaboration song will be revealed on August 3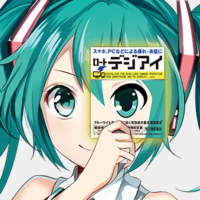 Rohto Pharmaceutical, one of the major drug companies in Japan, announced today on July 10 that it will release "Digi Eye," a new eye drops for tired eyes of computer/smartphone users, collaborating with the most famous vocaloid character Hatsune Miku, in Japan on July 15. The eye drops is used for reducing digital eye strain (aka computer eye syndrome) caused by using digital devices too long. The retail price is 880 yen (about US$8.67).
The package is designed by Non, who is known as the illustrator of the Love, Chunibyo & Other Delusions novels (as Nozomi Osaka), and the Miku key visual is drawn by Kihiro Yuzuki, one of the Snow Miku 2014 illustrators.
In addition, a free app "Digi Eye AR" will be available to download on July 22 with a full version promotional
video for the AR project. It will make you enjoy Miku's AR concert on the package of the eye drops with your
smartphone. Miku's new song for the project will be revealed at 10:00 pm on August 3.
Teaser PV
via: Netlab
©Crypton Future Media, INC. www.piapro.net