Second season starts tomorrow, October 8th, at 10:05 AM Pacific Time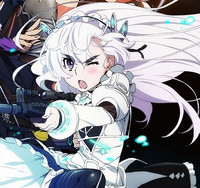 More than a little bit of magic arrives at Crunchyroll today with the announcement that the second season of the Chaika anime, based on the light novel and manga series, will soon be joining the fall lineup.
Chaika -The Coffin Princess- AVENGING BATTLE is set to broadcast every Wednesday starting on October 8th, at 10:05 AM Pacific Time, and free members able to watch one week later. More information can be found on www.crunchyroll.com/chaika.
Story
Toru, a young former soldier was left living a life of meaningless self-indulgence after the war ended. While searching for food in the forest, Toru met Chaika, a young girl carrying a coffin, and found a reason to live again. After she gave him a job to do, he declared her his master and joined her, along with his younger sister Akari, on a journey to fulfill Chaika's goal.
During their travels, other girls who look just like Chaika appear before them one after another, each claiming to be "Chaika" as well. One dressed in red, one in blue, and one in white... but all the "Chaikas" share the goal of gathering the emperor's remains. Which is the real Chaika? What exactly IS "Chaika"? Many mysteries intertwine in a complex web, all centered upon "Chaika" and the remains. What truth will be revealed when all the remains have been gathered together?
Voice actor Junji Majima, who is known for his role as Ryuji Takasu from Toradora, will play Toru Acura while Chaika will be voiced by Chika Anzai, known for her role as Sakuya from Danboru Senki.
Chaika -The Coffin Princess- AVENGING BATTLE will be available to Crunchyroll's audience: U.S.A, Canada, United Kingdom, Ireland, South Africa, Finland, Norway, Sweden, Denmark, Netherlands, Latin America (Central and South America including Caribbean), Albania, Andorra, Belarus, Bosnia and Herzegovina, Bulgaria, Croatia, Czech Republic, France, Greece, Holy See (Vatican City State),Hungary, Italy, Latvia, Lithuania, Macedonia, Republic of Monaco, Montenegro, Poland, Portugal, Romania, San Marino, Serbia, Span, Slovakia, Slovenia, Turkey, Ukraine, Aruba, French Guiana, French Polynesiam Guadeloupe, Martinique, Mayotte, New Caledonia, Reunion, Saint Barthelemy, Saint Martin (French), St. Pierre & Miquelon, Wallis and Futuna Islands, the Arabic and Middle East.
---------
Patrick Macias is editor in chief of Crunchyroll News and editor of Otaku USA magazine. He is also the author of the Paranoia Girls webcomic.