After examining a similar game, the developer asks potential buyers for their opinions.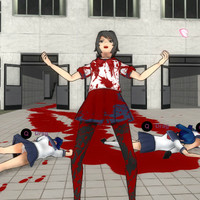 You may remember Yandere Simulator as that crazy little game where you step into the shoes of one particularly crazy yandere girl in a traditional Japanese high school who desperately wants Senpai to notice her. The developer of the upcoming game has taken to YouTube with another video showcasing the game and asking one question: Should the game become open world or not?
The video follows the developer as he checks out the game Natsuiro High School: Seishun Hakusho, as he attempts to glean information about possible features that could or should be included in Yandere Simulator.
In the end he urges fans to participate in a special poll to help him figure out if the extra work and manpower required to include a small in-game town would be worth the possible six months of labor to release the game, as well as the extra volunteers. And speaking of volunteers, he's put out another call for additional help if you're interested in working on some of the character modeling and whatnot.
Do you think the game needs to go open world?
[via Siliconera]
-------
Fueled by horror, rainbow-sugar-pixel-rushes, and video games, Brittany is a freelancer who thrives on surrealism and ultraviolence. Follow her on Twitter @MolotovCupcake and check out her portfolio for more.