Play Arts Kai brings more "Final Fantasy" favorites to life.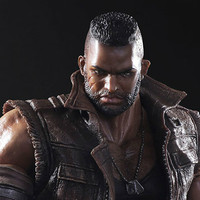 Play Arts Kai is bringing three Final Fantasy characters to life in their critically claimed statue forms. We're in for a real treat this time around too. Cloud and Barret are getting a figure featuring their Final Fantasy VII Remake designs. These figures are one of our first chances to see the new character designs unclose and personal, and they look amazing.
The third figure is Nyx Ulric, the protagonist of Final Fantasy XV: Kingsglaive. If you haven't seen Kingsglaive, I highly recommend it. Not only does it have some of the best CGI animation ever, but it also gives a good chunk of backstory on what happened immediately before Final Fantasy XV.
The Play Arts Kai Cloud Strife Final Fantasy VII Remake figure will be coming out in April 2017. Barret Wallace from the Final Fantasy VII Remake will be releasing in May 2017. Finally, Nyx Ulric's Play Arts Kai figure will be coming out in July 2017.
[via AmiAmi]
-------
Fueled by horror, rainbow-sugar-pixel-rushes, and video games, Brittany is a freelancer who thrives on surrealism and ultraviolence. Follow her on Twitter @MolotovCupcake and check out her portfolio for more.