Anime adaptation based on Takumi Yanai's novels debuted in 2015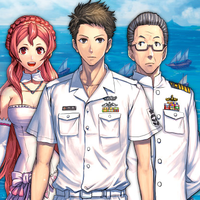 The official website for the Gate: Thus the Japanese Self-Defense Force Fought There! franchise has announced a new phase for the novels that shifts focus from the Japanese Self-Defense Forces in the original novel and anime adaptation to the Japanese Maritime Self-Defense Forces. The second season begins with a new story where commander Goro Etajima and his crew must rescue an abducted American journalist from the Akumi Special Region, but not before being transported through the reopened Gate to another world. Publisher Alphapolis has also announced that 4.2 million copies of the Gate novel series have shipped, making it one of the most popular titles for the publisher.
The anime adaptation for the first series of novels is on Crunchyroll if you haven't seen it yet. The manga adaptation of the first novel series is also available from Sekai Project.