More shows and episodes added from Funimation today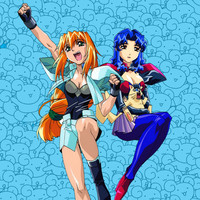 Crunchyroll is excited to announce more titles from Funimation being added to the catalog, with more Yu Yu Hakusho and Black Butler episodes being added as well as fan favorites Excel Saga and UFO Ultramaiden Valkyrie rounding out tonight's additions.
From cutting classes to brawling in the streets, Yusuke Urameshi is not your typical role model. In fact, this kid's nothing more than a fourteen-year-old delinquent with a talent for trouble. But in a single selfless act Yusuke dies while saving another. For such noble sacrifice he is given a second chance at life, but it's to be a life far different than the one left behind. Now a Spirit Detective, the young man must track down demons and humans alike who desire to rule over the three realms of reality.
Granted with amazing new powers to be used in the cause of good versus evil, Yusuke sets out on his first assignment. He will gather together those who will fight alongside him: Kuwabara, Yusuke's intellectually challenged formal rival from high school; Kurama, an infamous thief from the Demon World who inhabits a human body; and Hiei, a hot-headed demon skilled with both the sword and the third eye. Together, these four set forth to do battle with monsters, beasts and men.
This show is available in the United States, Canada, United Kingdom, Ireland, Australia, and New Zealand.
Excel's in a secret organization. She wants to impress her boss by conquering the city. And every episode of her show, Excel Saga, is a mega-random mash-up of stuff that rules. It's like a sci-fi movie full of drunken kittens. It's like a romantic comedy about zombies that drive laser motorcycles made of flaming glitter. And when you smoosh it all together? BOOM. Excel Saga!
This show is available in the United States and South Africa.
Scrape your jaw off the bathhouse floor and get an eyeful of the wildest maidens this side of Valhalla! Watch your favorite girls wiggling and jiggling in and out of outfits so revealing they may as well wear nothing. Except glasses! Because Princess Pharm's in town, and she's cruising the local high school looking for chicks that can pull off the bookish and busty look.
This series is available in the United States, Canada, United Kingdom, Ireland, Australia, New Zealand, and South Africa
Ciel Phantomhive was born into a life of luxury, only to have his beloved parents brutally murdered before his eyes. Wrought with grief and tortured by the very fiends who killed his mother and father, Ciel summoned the services of an exquisite butler born of the fires of hell. Together, they'll turn merry old England on its ear while hunting the mysterious villains who made Ciel an orphan.
This show is available in the United States and Canada