The fifth show is scheduled to run across five Japanese cities until June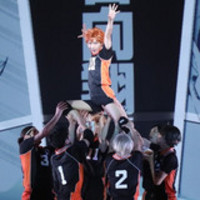 "Hajimari no Kyojin" (The Start of the Giant), the fifth show of "HYPER PROJECTION ENGEKI HAIKYU!!" based on Haruichi Furudate's volleyball-themed sports manga Haikyu!!, finally kicked off in Tokyo on April 28. Kyodo Medias has provided us a set of photos from its dress rehearsal for the media one day before the opening, while 2.5news has posted two video reports from the day.
The Haikyu!! stage play adaptations launched in November 2015. The fifth show is based on the early episodes in the "Spring High Preliminary Arc," told in the manga's 11th to 23rd volumes, including Karasuno High's games against Jozenji High and Wakutani Minami High.
Dress rehearsal
Press conference with the cast
Main poster visual
Peefromance Schedule:
Tokyo (Nippon Seinenkan Hall): April 28-May 6, 2018
Hyogo (Amashin Arcaic Hall): May 12-13
Fukuoka (Fukuoka Convention Center 3F Main Hall): May 18-20
Miyagi (Tagajyou Civic Center Big Hall): May 23-25
Osaka (Orix Theater): June 1-3
Tokyo Encore (Tokyo Dome City Hall): June 8-17
CM
---
As reported, the next sixth show "Saikyo no Team" (The Strongest Team) telling the climax of the arc,
Karasuno's games against Aoba Johsai High and Shiratorizawa Academy is scheduled to run from October
20 to December 16. It is confirmed to be the last one by the current cast members of Karasuno High,
including 23-year-old Kenta Suga, who has been playing the protagonist Shoyo Hinata since the first play.
The sixth show "Saikyo no Team" main visual
Peefromance Schedule:
Tokyo (Tokyo Dome City Hall): October 20-28, 2018
Hiroshima (Hatsukaichi Bunka Hall Skura Pia Big Hall): November 9-10
Hyogo (Amashin Arcaic Hall): November 15-18
Osaka (Umeda Arts Theater Main Hall): November 23-25
Miyagi (Tagajyou Civic Center Big Hall): November 30-December 2
Tokyo Encore (Tokyo Dome City Hall): December 7-16
---
Source: Kyodo Medias press release, 2.5news
© Haruichi Furudate/Shueisha, Hyper Projection Engeki "Haikyu!!" Production Committee