Join Jin Akanishi and KIIS FM On-Air Personality, Jesse Lozano, at The Beverly Center as they celebrate the release of Jin's U.S. Single, "Test Drive featuring Jason Derulo," along with his biggest fans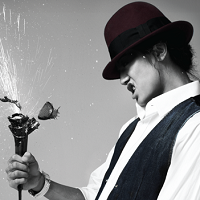 Japanese Pop Phenom, Jin Akanishi, Celebrates U.S. Single Release with a Fan Conference at The Beverly Center
Join Jin Akanishi and KIIS FM On-Air Personality, Jesse Lozano, at The Beverly Center as they celebrate the release of Jin's U.S. Single, "Test Drive featuring Jason Derulo," along with his biggest fans
Burbank, CA (November 2, 2011) – Top selling Japanese pop artist, Jin Akanishi, kicks off the release of his highly anticipated all-English U.S. single, "Test Drive featuring Jason Derulo," with a grandiose event for his fans!
WHAT: Jin Akanishi celebrates the release of his U.S. single, "Test Drive featuring Jason Derulo," with KIIS FM's Jesse Lozano hosting a fan conference where 10 lucky fans will be chosen to ask Jin their questions. A live premier of the music video for "Test Drive featuring Jason Derulo" will be shown. PLUS, the FIRST 50 fans in line will get a Meet & Greet Autograph Session with Jin!
WHEN: Tuesday, November 8, 2011
7:00PM-8:30PM


WHERE: The Beverly Center
131 N. La Cienega Blvd.
Los Angeles, CA 90048
(In front of the Louis Vuitton Store)
About Warner Bros. Records
Warner Bros. Records is one of the most successful recording companies in music history and home to some of the most influential and innovative artists of our time. Its reputation and extraordinary roster of new and established recording artists is unparalleled, and its collective influence on pop culture is without precedent. In 2007, Warner Bros. was ranked the No. 1 record label in the U.S. as measured by Total Album share and has been ranked one of the country's top three labels every year since 2003.
Warner Bros. Records was founded 50 years ago by Jack Warner, the last of the original pioneering Warner brothers, as an offshoot of Warner Bros. Studios, which, 32 years earlier, had introduced its Vitaphone sound-on-disc system for feature films. The acquisition of Frank Sinatra's Reprise label in 1963 catapulted the company into one of the most dynamic organizations in popular music and throughout the next five decades built a family of labels that today represent a full spectrum of musical genres.
For more information about Warner Bros. Records visit: http://www.warnerbrosrecords.com/