Featuring egg-on-egg action and a nearly foot-long croquette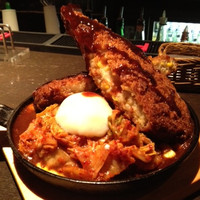 To commemorate Yakuza 5's release for PlayStation 3 on December 6th in Japan, Dining Darts Bar Bee has cooked up the "ultimate evolution" of their demi-glace sauce omelet rice as a collaboration menu item. Why Dining Darts Bar Bee? Because they appear in the game, of course! Players can enjoy a game of darts in Nagasugai, Fukuoka. Actually, the Bee my friend and I went to looks pretty much exactly like these screenshots:
On to the gut-busting reality of the Super Huge! Super Spicy! Stamina Bee Demi-Glace Omelet Rice:
Note that the version we received (with proper notice beforehand lest we be disappointed) is different from the advertised one in a very important way. "On top of the egg is a raw egg for stamina! They go together well!" Except ours came with…onsen tamago! It's a soft-boiled egg that is only slightly less runny and raw than a raw egg. It's really good if you drizzle it all over your half of the mammoth 30 cm croquette (that's almost a foot; don't try to eat this alone):
The egg yolk really does add a new heavenly dimension to the ubiquitous sweet [tonkatsu] "sauce" on top of what-essentially-amounts-to-deep-fried-mashed potatoes phenomenon. And yeah, those are corn nibs!
In the above left you can finally make out the "omelet" part of the omelet rice that was under all that croquette. By the way, the kimchi is what they were relying on to make it "super spicy." Honestly, sometimes it can be surprising how true/painful the claims of spiciness in Japan are, but this time it was just normal (for Japan, I suppose) kimchi with a pleasant flavor. The inside was ketchupy rice like you would expect inside pretty much any omelet rice:
完食 (kanshoku) is how you might describe the photo on the right—the kanji for "completion" and "eat."
This was actually a really fun, tasty way to ingest more calories than necessary. For 1280 yen (~$15.53 USD) we got plenty for two, but the bummer was that the venue charge cost almost as much as that. Not that it ruined our night, but if you have the chance to go (all 21 Bee locations Japan-wide are participating through the end of the month) don't be caught off guard by the fee.
In addition to Dining Darts Bar Bee, there are new Yakuza 5 tie-ins happening at a couple other shops. Sumire Ramen (in-game in Tsukimino, Sapporo) is selling special miso-flavored ramen to cook at home and okonamiyaki restaurant Fugetsu (in-game in Soutenbori, Osaka) is giving away postcards to customers who order specific menu items. For more on these and other ongoing collaborations (I might head to Gindako for the Manly Stamina Takoyaki) peep the game's official site.
Before that, raise your hand in the comments if this omelet rice featurd the biggest croquette you've ever seen! I've certainly never seen bigger.
By the way, it seems that Yakuza 5 got a perfect 40 (10/10/10/10) in last week's Famitsu. Who is ready to play it?
Tip via My Game News Flash