An in-depth look at the director of Shōwa Genroku Rakugo Shinjū, Mamoru Hatakeyama.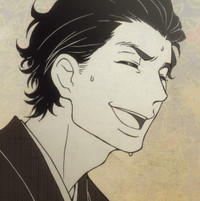 Creative spotlights are easily digestible overviews of a director or animator's body of work, style, and vision. My goal for these articles is to highlight some of the exceptional and possibly lesser-known creative voices in anime. I'm hoping these write-ups encourage people to explore more of what anime has to offer.
The spotlight for this week will be on Mamoru Hatakeyama, one of the best storyboard talents in the industry who is most well-known for directing Shōwa Genroku Rakugo Shinjū.
Although Shōwa Genroku Rakugo Shinjū was an anime that rightfully deserved its praise, there's been little talk in the community about its director, Mamoru Hatakeyama. As a result of having few production credits (with many of them being adult OVAs under a different pseudonym), he is not the most recognizable name in the anime industry. However, when you comb through his more recent endeavours at Studio DEEN, you'll find one of the most brilliant storyboard talents currently working on anime. Hatakeyama brings to the table an understated yet whimsical touch, which can turn normally mundane source material into an elaborate, theatrical journey.
Hatakeyama previously went by the pseudonym of Shinichi Omata. Although he had worked on anime since the 90s, his most notable credits were from storyboarding episodes of popular SHAFT anime such as Madoka Magica and Hidamari Sketch. This period of time was an important part of the director's career, as it was where he developed his modern directing style. It's no coincidence that you'll see shades of SHAFT's in-house style in Hatakeyama's anime, as his creative direction was heavily derived from their school of talent. Now operating within Studio DEEN, Hatakeyama loves to employ close-ups, rapid scene cuts and the occasional piece of minimalist symbolism in his works.
Unlike some of SHAFT's other directors, Hatakeyama's style is quieter, with a primary focus on drawing you into the world of the characters in his anime and keeping you there. He's a subtle master of atmosphere, mood, and set design, and it shouldn't be a surprise that many of the anime he directs end up feeling like self-contained theatre plays – in both a figurative and literal sense. As a result, it's easy to see why he was Studio DEEN's top choice for directing Shōwa Genroku Rakugo Shinjū.
Rakugo is a traditional Japanese performance art form featuring a lone storyteller. The stories are all well-known tales and their dialogue is set in stone. However, it's up to the storyteller to breathe life into these texts, and make these words their own. During this solo performance, the rakugo artist whisks their audience away into these elaborate narratives through the smallest subtleties in their body language and voice. Their pitch, tone, and posture are all paramount in portraying a multitude of different characters for the audience. With only their bodies on stage, rakugo is truly a test of a storytellers' ability to entertain.
Likewise, the anime adaptation of Shōwa Genroku Rakugo Shinjū was also a test of Hatakeyama's ability to entertain. Rakugo is not something that is easy to recreate in animation, let alone make engaging for audiences unfamiliar with the style of performance art. However, the Studio DEEN director was able to deliver rakugo performances that were both interesting and immersive. Hatakeyama's strength has always been his thoughtful storyboarding. He's the type of director that loves to depict people's grittiest and most personal gestures; a real voyeur, if you will.
In Shōwa Genroku Rakugo Shinjū, each storyteller's quirks, charms, and faults are on full display. Hatakeyama captures initial performance nerves to roleplay swagger so naturally that watching a full, 20-minute performance feels effortless. Many rakugo performances are comprised of static shots of the storyteller, with the occasional cut to his hand or the back of his neck to emphasize a gesture; it's not flashy cinematography by any stretch, but that doesn't make it any less engrossing or effective. The focus is entirely on the storyteller, in many ways paying the deepest level of respect to rakugo as an art form.
While Shōwa Genroku Rakugo Shinjū was undoubtedly Hatakeyama's best realized work in terms of how his style complemented the material, two of his other anime bear mentioning for how they fit into his portfolio.
Sankarea: Undying Love was his directorial debut at Studio DEEN, and although it's worlds apart from Shōwa Genroku Rakugo Shinjū in content, remains an important entry in the director's career. A zombie rom-com with clear highs and lows, Sankarea: Undying Love showed just how much of a difference Hatakeyama's touch made. The first three episodes of the anime in particular stood out for their detailed storyboarding and dynamic layouts. During these episodes, the director delivered scenes which effectively captured the awkward interactions between the teenage protagonist and the heroine. Taking place in an abandoned bowling alley at night, he creates a mood that is playful and flirtatious, yet ultimately shows (through his use of close-up and perspective shots) that physical barriers exist between the characters. Sankarea: Undying Love was an anime with a mixed reception, but it's hard to deny that Hatakeyama's contributions were its best sections.
Additionally, Hatakeyama was also the puppet master behind Rozen Maiden: Zurückspulen. Airing in 2013 as a continuation of the adaptation of Peach Pit's popular manga, the season was a cinematic departure from its previous installments. Between the Rozen Maiden franchise's gothic character designs, battle royale setup, and liberal Alice in Wonderland motifs, Hatakeyama decided to take a more theatrical approach with the anime's direction. He plays around with visual symbolism and multi-layered fairytale narratives through the anime to give form to its themes of dreams, memory, and personal existence. The end result of Hatakeyama's efforts was a Rozen Maiden season that was more focused than its predecessors and able to capture an equivalent level of artistry as Peach Pit's manga.
Thanks to the roaring success of Shōwa Genroku Rakugo Shinjū, Mamoru Hatakeyama is finally beginning to enter the public's eye. While he only has a handful of anime and episode credits under his belt, he's proven to be one of the most vigilant storyboard talents in the industry. Be on the lookout for more of Hatakeyama's anime, as his understated direction is sure to be worth your while!
Let us know your thoughts about Mamoru Hatakeyama and Shōwa Genroku Rakugo Shinjū in the comments below!