Creative Spotlights are a column by Brandon Teteruck highlighting industry talent in anime. This week looks at Yoshihiko Umakoshi, the character designer of My Hero Academia.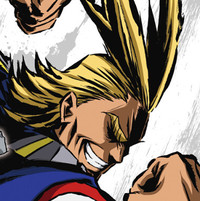 A note to those that have been reading my column for a while: I am planning to expand the scope of Creative Spotlights beyond just directors and animators in the near future. Anime productions are a collaborative effort and although taking an auteur approach is preferable for a features article, it doesn't convey the entire picture of the final product.
My goal for these articles has always been to highlight exceptional and lesser-known talent in anime, and after nearly a year of writing these pieces I feel I'm comfortable enough to cover other production roles. You can still expect me to cover directors and animators, but I'd also like to look at staff responsible for roles such as character designs, background art, sound direction, and soundtracks.
Without further ado, the spotlight for this week will be on Yoshihiko Umakoshi, veteran character designer, animation director, and key animator.
Full production credits: http://www.animenewsnetwork.com/encyclopedia/people.php?id=64
Sakugabooru page: https://sakugabooru.com/post?tags=yoshihiko_umakoshi
With the anime adaptation of My Hero Academia surging in popularity, I figured now is as good of a time as any to highlight one of my favorite character designers and animation directors: Yoshihiko Umakoshi. My first exposure to his work was through the magical girl series Heartcatch Precure! where I fell in love with its cartoonish character designs and stylish action sequences. Following that, I checked out Casshern Sins and Ojamajo Doremi and became enamored with how he drew and animated characters. Umakoshi was one of the key figures who sparked my interest in looking at anime from a production standpoint and I want to convey what makes him an incredibly talented artist.
Umakoshi is a graduate of the Tokyo Animator University who has spent most of his career at Toei Animation and as a freelance key animator. His first major breakthrough was as a character designer for Studio Cockpit's Grappler Baki OVA, and since then he's gone on to provide gorgeous key animation for many iconic anime series. Umakoshi's animation cuts have popped up in a variety of different works, ranging from the hot-blooded Gurren Lagann to the meditative Mushishi. He's a top-class animator who understands how to integrate dynamic action and cartoony deformations into one cohesive package.
While he's worked on countless animation productions throughout his lengthy career, Umakoshi's most distinctive works were those at Toei Animation. Surrounded by the studio's golden age talent such as Shigeyasu Yamauchi and Tatsuya Nagamine, he became the heart and soul of many beloved children's anime. An often-overlooked magical girl classic, Ojamajo Doremi is one of his crowing achievements as both a character designer and chief animation director.
The core of Umakoshi's style revolves around having character designs which are fluid and malleable depending on the situation. His characters, while still cute and charming, are not bound by the common conventions of anime. For example, instead of relying exclusively on a chibi or super-deformed style during comedic sketches, he allows characters to break the mold of reality and express themselves in ways that are befitting of a cartoon.
In Ojamajo Doremi, characters respond to surprise or excitement by having their eyes shrink into tiny white circles while their jaws quite literally drop to the floor. Umakoshi tends to prefer character designs that are slender but comprised of simple shapes (square torsos, circular hands), so that they are not constrained by movement or expression. His caricatures perfectly harmonize when exhibiting a "stretch and squash" motion, in essence carrying an ethos more similar to Western cartooning, as opposed to a distinctly Japanese drawing style.
Additionally, one of the most charming points of Umakoshi's style of expression is that it never becomes stagnant. Far too often, we see anime characters that only have a single "reaction face" for a situation – whether it be dumbfounded, surprised, or shocked. In Ojamajo Doremi, it would not be a stretch to say that each of the main heroines have hundreds of unique reactions. Especially for a long-running magical girl anime, Umakoshi's designs and chief AD (animation director) role were instrumental in preserving the series' creativity and charm over its four-year run.
While Ojamajo Doremi was a more traditional magical girl series where young witch girls helped humans with their everyday problems, its spiritual successor Pretty Cure focused on magical girls battling the forces of evil with martial arts and massive laser beams. Essentially, Pretty Cure was a fusion between Toei's Sailor Moon and Dragon Ball that is still going strong today as a result of its widespread appeal to multiple demographics.
Umakoshi was brought on for Pretty Cure's seventh installment, Heartcatch Precure!, as its character designer. Backed by his creative talents, he took the Pretty Cure franchise to new heights with his expressive overhaul of its battle heroine designs and creative applications of their superpowers. With the season's primary motif being flowers, Umakoshi designed the Precure's costumes to be graceful but to also represent each girl's individual personality. For example, Cure Moonlight's dress is longer and more elegant than the other Precures to show that she is older than the other girls while conveying her cool, refined demeanour.
Most importantly, Umakoshi's role as a frequent animation director ensured that the season's fights were well-animated and thoughtfully scripted. Many other Pretty Cure seasons fall into the pitfall of having dull, choppy fights which consist of a few punches and then the finishing move. However, with Heartcatch Precure!, the Precure's movements are accompanied by glowing streaks of light representing each girl's color. They also perform flashy signature moves ranging from miniature spirit bombs to diving butt punches. The action is choreographed so tightly that it never feels stale, with each heroine serving a distinct role in battle. The huge range of dynamic poses and body/hair movements that are seen throughout the series helped secure Heartcatch Precure! as many fans' favorite season. Additionally, Umakoshi was awarded the Character Designer Prize at the 10th Tokyo Anime Awards for his work on Heartcatch Precure!.
Umakoshi later collaborated with his long-time colleague Shigeyasu Yamauchi on the Tatsunoko-Madhouse series Casshern Sins. Once again lending his talents as a veteran character designer and chief AD, his style of animation flourished under Yamauchi's bold cinematic direction. Casshern Sins is a bittersweet anime set in a post-apocalyptic world where robots gained sentience and began destroying humanity. Throughout the series, the hero, Casshern, confronts many landscapes rife with death and despair, battling the endless hordes of robots who seek to destroy him. Both the guilt and loneliness that Casshern experiences throughout the series is captured so poignantly by the small nuances in his features and gestures. The way that the character conducts himself, with his forlorn gaze, slouched shoulders, and messy hair says all about his state of being – proof of Umakoshi's ability to design expressive and sympathetic characters.
Just looking at Umakoshi's career, it's easy to see why he was the ideal choice to handle the anime adaptation of My Hero Academia's character designs and animation direction. He's had a fulfilling career working on superhero anime such as the Pretty Cure franchise and exploring how to put nonconventional character designs into motion. Many cornerstones of Umakoshi's style such as his thick outlines and heavy shading (most notably with the scenes featuring All Might) have defined the anime adaption of My Hero Academia. Umakoshi is one of the greatest artists and animators currently working in anime, and his work is certain to leave an impression on anyone who is a fan of good animation.
Let us know your thoughts about My Hero Academia and Yoshihiko Umakoshi's other anime in the comments below!
----
Brandon is a Brand Features Writer for Crunchyroll and also writes anime-related editorials on his blog, Moe-Alternative. Hit him up for a chat on his Twitter at @Don_Don_Kun!