At an advance screening of the URAHARA anime, the creators spoke about their passions and struggles.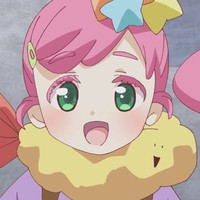 Out of all the shows airing next season, URAHARA is the one I'm looking forward to the most. I was completely charmed by the trailer's quirky and colorful aesthetic, and I'm also intrigued by the fact that it's an original anime loosely based off an illustrated web novel written by Crunchyroll's own Features Editor, Patrick Macias. I have no idea what will happen in URAHARA, and I'm looking forward to seeing how the story unfolds.
I got my first taste of the URAHARA anime at an advance screening of the first episode inside a theater in Fuji Television (the TV network that will broadcast the anime in Japan). I won't spoil what actually happens in the episode, but I do want to share a brief Q&A with the creators!
A Q&A WITH THE CREATORS OF URAHARA
After the screening of the first episode, the main staff got on stage to talk about the show. Here's a very rough translation of what they shared:
Q: What went into the key visual?
AMICA KUBO (director): It's based on the Harajuku vibe. I felt that it needed to be colourful and fashionable. I hoped that foreigners would see it and feel like they want to visit Harajuku for themselves.
Q: How did you create the story?
NATSUKO TAKAHASHI (script writer and series composition writer): The key themes of this series are "otaku x fashion x creation." I thought that the idea was fun, but at the same time it looked hard to do. I hadn't really been to Harajuku much myself, so I thought I'd approach the show like a challenge. I also wanted to portray the dreams of these girls as creators. I hope that others will be able to relate to the human relationships.
AMICA KUBO: Takahashi-san is amazing, the way she's able to create such a great script for this series. She's really a pro.
Q: What did you think of while designing the characters?
MARIKO FUJITA (Anime character designer): I liked Mugi Tanaka's original designs for the illustrated web comic, but it was also hard to capture their unique vibe. The director asked for a lot of revisions.
AMICA KUBO: The girls' eyelashes and the thickness of their hair were key points to focus on.
MARIKO FUJITA: When designing the clothes, I was often like, "Do people really wear this?" (laughs)
Q: What did you think of while drawing the mecha designs?
TAKAHIRO YAMADA (Mecha designer): I needed a lot of help for the contraptions that the girls ride on. I tried a lot of different things. Sometimes, I didn't even know what the heck I was drawing.
AMICA KUBO: He drew a lot of different versions.
TAKAHIRO YAMADA: There's a trend these days to create robots in CG, but in this anime they're hand-drawn. I often wondered if I was overdoing it.
AMICA KUBO: There were so many little details he thought about too. He thought hard about how the machines would function.
Finally, the creators also emphasized that they were striving to make something unique, something that only their team could do. Let's wish them all the best!
---
Kim Morrissy (@frog_kun) is a freelance writer and Tokyo correspondent for Anime News Network.