Check out the real-world locations of Asteroid in Love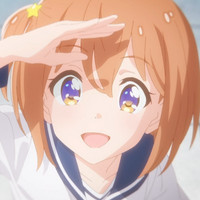 With Asteroid in Love, Doga Kobo once again delivers another instantly charming slice-of-life anime, which we've already come to know and love from the studio. Combining the two fields of astronomy and geology, the members of the newly merged earth sciences club set out to accomplish the ambitious task of finding a yet undiscovered asteroid. On that account, let's l leave the stargazing to Mira and the girls of the earth sciences club for now, and let us instead focus on the more earthly real-life locations of the show in this edition of Anime vs. Real Life. After all, there's plenty to see and discover in Asteroid in Love's real-world setting of Kawagoe!
*All images were taken with Google Street View
Located only around 30 minutes north of central Tokyo by train, Kawagoe often gets referred to as Little Edo (which is the old name for Tokyo), due to its many historic and traditional Edo-era buildings that define the townscape. The well-preserved historic center of the small town makes it a popular tourist destination for day-trips from Tokyo, and therefore also a good destination for fun anime pilgrimages.
Speaking of which, Kawagoe isn't exactly a stranger when it comes to anime tourism, since several shows like Kamisama Hajimemashita or Tsukigakirei (one of my personal favorites) also call the picturesque town their home.
The main attraction of Kawagoe is the town's large traditional warehouse district with its countless beautiful Kurazukuri, which are clay-walled warehouse-styled buildings. Tucked away in one of the many quaint side streets stands one of the town's most prominent landmarks, the Bell of Time, which can be spotted in the back here.
The girls check out the Raku Raku Bakery in the show here, which is adjacent to the famous Kashiya Yokocho (Candy Lane) in Kawagoe, which is lined by traditional Japanese sweets and candy shops. I can personally recommend the sweet potato ice cream there, should you ever find yourself strolling down candy lane in Kawagoe.
Since my uncle lives only a few stops away from Kawagoe, I've had the pleasure of visiting the town on several occasions, and with Asteroid in Love really embracing its setting, it looks like I'll have to make a couple more trips there in the future.
The opening of the show briefly shows a scene taking place on the small Hachiman Bridge, but this has been the only scene there to date.
In the third episode, Mira and Ao meet up at the west exit of Honkawagoe Station to go on a well-earned shopping spree, after their little stint helping out at Suzu's bakery.
However, they soon randomly encounter Inose and Suzu in the warehouse district, who both seem to be on a treasure hunt of sorts. So as good friends and fellow club members, Mira and Ao decide to do the only sensible thing here, which is to quietly follow them around and live-tweet their progress.
What seems like a leisurely stroll in the anime actually turns out to be an almost 8km long walk in real life, which would actually take around 2 hours to complete, as the the treasure hunt takes them all the way from Kawagoe to the next town over, which is Fujimino.
Since this is a quiet residential area, I'll not be including the exact locations for these shots in the map below, as taking pictures in residential areas can always be invasive for the local residents.
Perhaps that was also the reasoning for Studio Naha, which is responsible for the show's backgrounds, to use Google Street View images as templates for most of the backgrounds in this scene in episode three.
Finally, Inose's casual 8km treasure hunt lead them right to a small district enclave. A couple of celebratory selfies in front of the district sign board are definitely in order!
And last but not least, let's top off this edition of Anime vs. Real Life with a more relaxing real-world location. In the second episode of Asteroid in Love, the gang kicks back a bit at the Saitama Seiganji Hot Spa in Seiganji.
Should you be a fan slice-of-life anime in general, or are simply looking for something pleasant and relaxing to watch, be sure to give Asteroid in Love a try!
Who has been your favorite member of the earth sciences club so far? Let us know in the comments below!

---
Wilhelm is an anime tourist, who loves to search for and uncover the real-world spots he sees in anime. You can talk with him on Twitter @Surwill or on Instagram wilhelm_donko.
Do you love writing? Do you love anime? If you have an idea for a features story, pitch it to Crunchyroll Features!