With the latest adaptation of his works soon to arrive, let's explore the fascinating world of Tomihiko Morimi!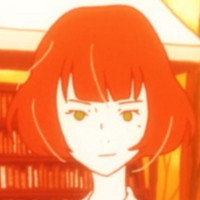 Hello everyone, and welcome back to Why It Works. Have you been keeping up with the news about Tatami Time Machine Blues? It was recently announced that nearly all of The Tatami Galaxy's original voice actors would be returning for the adaptation of the novel's sequel, continuing on from Masaaki Yuasa's 2010 production. Additionally, while Yuasa himself is no longer directing, the show couldn't have received a worthier successor. Shingo Natsume, the wunderkind director of One-Punch Man and Sonny Boy, will be lending his hand to Tatami Time Machine Blues, along with production staff at Yuasa's own Science Saru.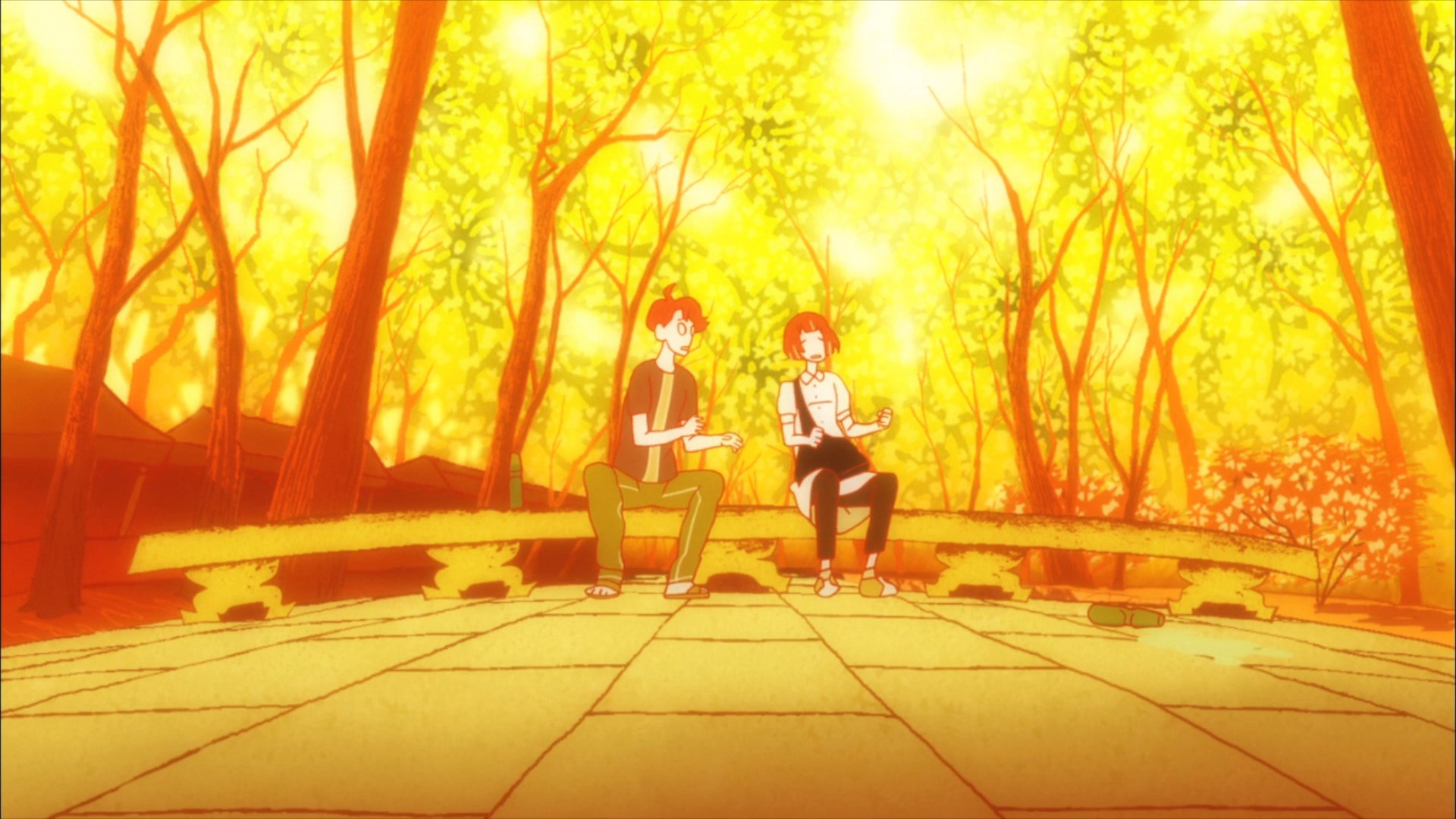 Image via Funimation
The Tatami Galaxy never made a big commercial splash, but the series receiving such a generous sequel still doesn't surprise me. Some original works are so good and so naturally suited to animation that they can draw talent almost irrespective of their financial viability. Artists want to create great things, and when you're starting with a story by one of our greatest fantasists, you can begin your reach toward the stars from the shoulders of a giant. Even though he's never written for a show directly, the novels of Tomihiko Morimi have served as a wellspring for some of the greatest anime of the last decade; alongside Nisio Isin, I'd count him as one of the greatest writers currently contributing to the medium. Today, I'll hope you join me as I explore what makes his stories special!
Tomihiko Morimi's preoccupations seem clear in all of his works. He seems to enjoy writing intimate character dramas about transitional periods — the shift from childhood to adolescence, from high school to college, and from dependency to adulthood, are all carefully articulated in his various anime adaptations. But rather than portray these transitions with staid objectivity, Morimi embellishes them with beautiful splashes of magical realism. Through this process, his stories paradoxically begin to feel even more real, as if they can capture life not just as a series of actions, but as a felt and potentially transformative experience.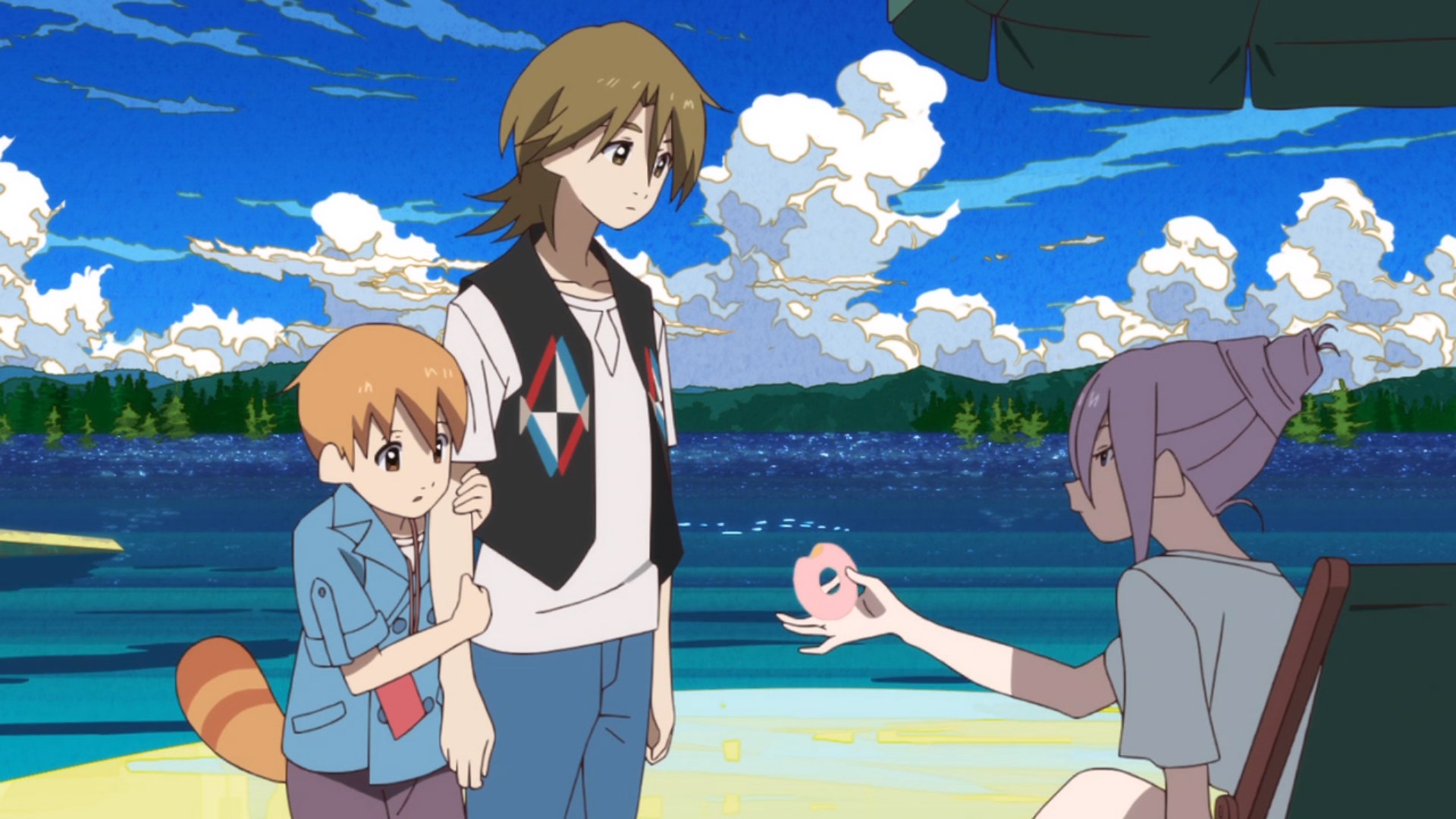 Magical realism is one of my favorite modes of storytelling, though it feels somewhat underrepresented in fandom media. Rather than either adhering to strict reality or inventing an entire fantasy universe, works of magical realism find the fantastical in the familiar, with little splashes of inexplicable mystery adding color and wonder to our mundane world. Though the style's most famous adherents are writers like Gabriel Garcia Marquez, its appeal can also be found in the works of Ghibli and many other films and fictions. Fundamentally, magical realism posits that we don't need to escape our own world in order to find the fantastical — that magic is all around us, glimmering in the untended corners of our beautiful home.
As a pure expression of fantasy's appeal, magical realism can create familiar yet strangely enchanting worlds and delight audiences with playful, inventive embellishments on our everyday life. As a tool for elevating human drama, magical realism can translate felt experience into visual artistry, allowing the characters' emotions to literally transform the world around them. Stories like Penguin Highway or The Tatami Galaxy transpose their characters' mindscapes onto their physical terrain; through a film like The Night is Short, Walk On Girl, we can experience the dizzying carousel of a perfect college night on the town, embellished with all the inexplicable fragments of memory that we struggle to define through our next-day hangovers.
Perhaps my favorite example of this dual quality in Morimi's work, this ability to embrace magical realism as both a source of wonder and a reflection of character, is The Eccentric Family. The story centers on a magically embellished version of Kyoto, populated with tengus and tanukis who secretly mingle with the city's human occupants. The Eccentric Family is littered with sequences of pure, fantastical wonder, sequences designed to make you gasp at their invention or visual splendor. In one episode, a protagonist walks through a teashop into an impossibly extended hallway, only to arrive at a lake that could only exist in a pocket dimension. In another, Kyoto's floating barge festival sees all of the city's creatures taking to the sky, riding among dancing lanterns in boats, floating teahouses, or whatever else will carry them.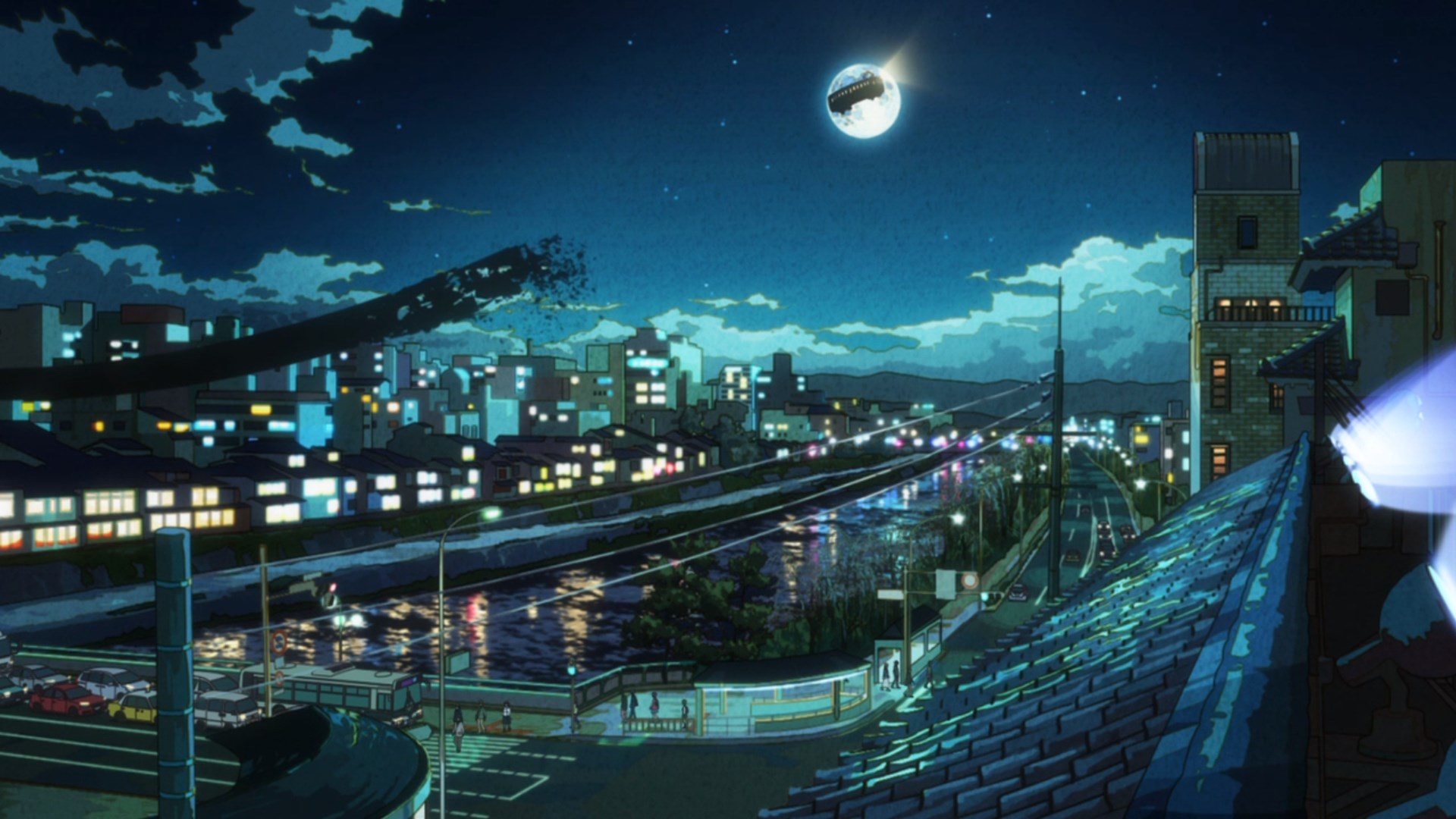 And yet, in spite of all these fantastical embellishments, The Eccentric Family is an intimate and carefully observed human drama. Its titular family are the wife and children of a local tanuki leader — its story largely concerns all of them coming to terms with his death and looking forward to adulthood. How we engage with a towering familial legacy, the ways different people articulate and overcome guilt, the power of family and community, and the restless ambiguity of young adulthood — The Eccentric Family explores all these topics with thoughtfulness and insight, letting its fantastical elements both echo its themes and shroud them in a comforting blanket of wonder.
So it goes for all of Morimi's stories, to a greater or lesser extent. Though he is happy to revel in fantasy, these fantasies always reflect genuine human experiences — the heady, anxious rush of college, the mercurial nature of grief, the burblings of first love. Morimi's gift for both rich and light-handed characterization means his stories are populated with characters ranging from larger-than-life icons to familiar friends: dazzling femme fatales, ogre-like conspirators, cantankerous yet loving brothers. Guided by the whims of these characters, he sculpts stories that seem to wander through fantastical tangents, yet always arrive at something cohesive and insightful.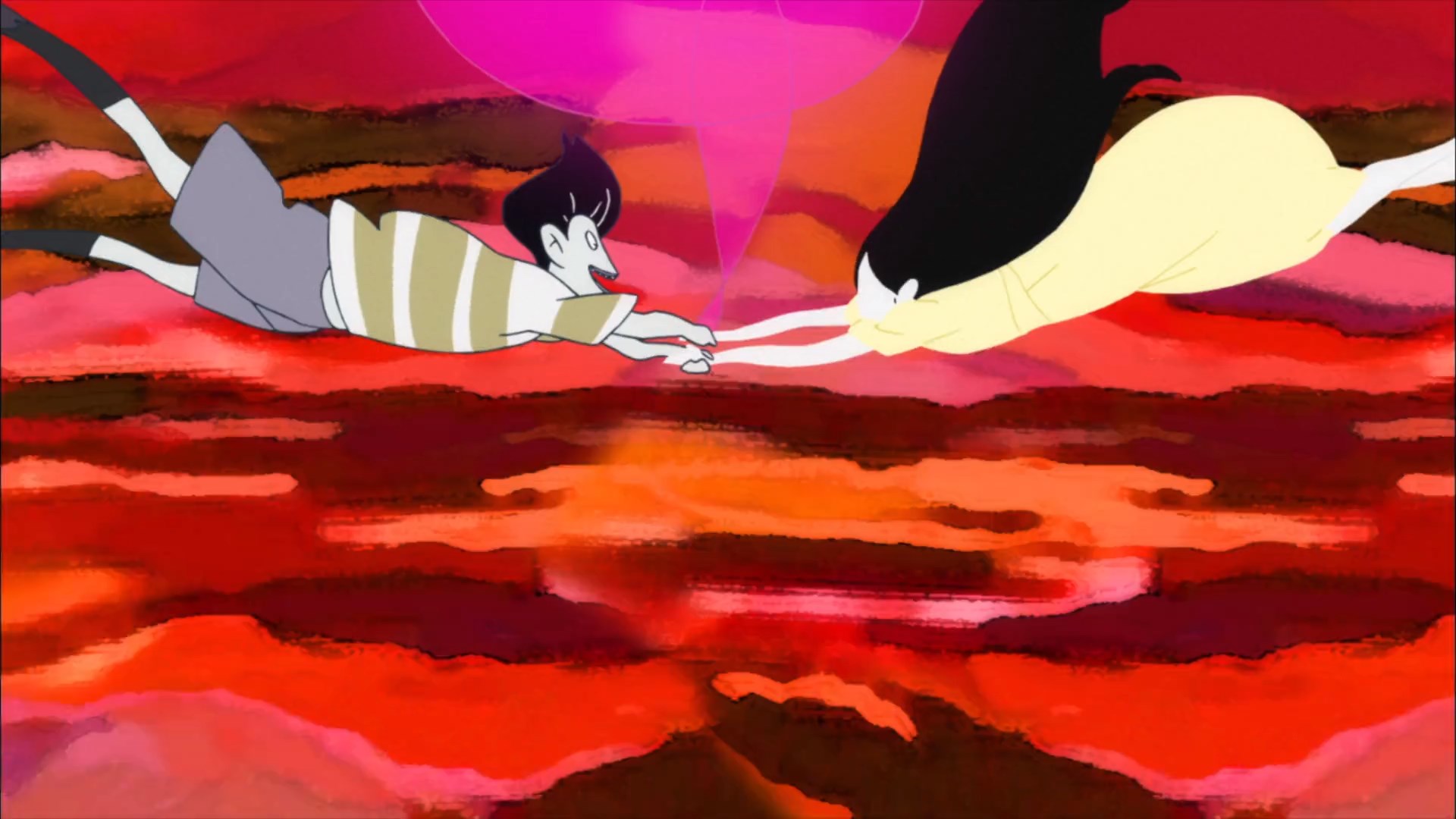 Image via Funimation
Whether it's the rich family drama of The Eccentric Family, the time-shifting anxieties of The Tatami Galaxy, or the sparkling adolescence of Penguin Highway, Morimi's stories always offer a mixture of dazzling fantasy and poignant humanity. He understands that the magical or inexplicable can be its own reward, but his stories go beyond that, spinning pure invention into the embellished yet earnest truth of life as it is experienced. Anime is much richer for his work. I can't wait to see his next story come to life.

---
Nick Creamer has been writing about cartoons for too many years now and is always ready to cry about Madoka. You can find more of his work at his blog Wrong Every Time, or follow him on Twitter.
Do you love writing? Do you love anime? If you have an idea for a features story, pitch it to Crunchyroll Features!