Vocaloid and video games icon appear on the cover of the 7/5 issue.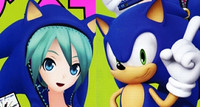 Only a few days away from Saturday's big concert at Anime Expo 2011, Hatsune Miku madness is running wild, both here in the US and in Japan.
The VOCALOID virtual idol can now be found, along with her new buddy Sonic the Hedgehog, gracing the cover of the 7/5 issue of Weekly ASCII magazine.
ASCII, published by ASCII MEDIA WORKS, is a tech magazine that covers the latest PC products and IT trends in Japan. They also publish the English-language iPhone app Tokyo Kawaii Mag that many of you might enjoy for it's coverage of anime, manga, and assorted J-pop trends (the current issue features, you guessed it, Hatsune Miku!).
Usually, the cover of ASCII is strictly reserved for flesh-and-blood idols and actresses, but the combined 2-D power of Miku and Sonic have clearly taken over the show until further notice.
The Miku x Sonic collaboration is part of the 20th anniversary of the Sonic series. As Crunchyroll News reported earlier, a new Hatsune Miku: Project Diva Ver. 2.5 module, to be released later this fall, will feature Miku in her adorable new blue hoodie.
That we all want.
RIGHT NOW!
In the meantime, enjoy the eye popping magazine cover itself!
Related: NicoNico Douga to Stream Hatsune Miku "Mikunopolis" Concert Live from Anime Expo