Short Work from Creator Known for Complex Manga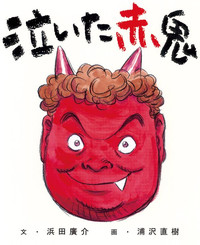 In Red Oni Cries, award-winning creator of Yawara! A Fashionable Judo Girl, Monster, 20th Century Boys, and Pluto Naoki Urasawa has gone for something simpler than the intricately plotted, morally complex thrillers that have dominated his work over the last decade. Produced by long time collaborator/editor Takashi Nagasaki, the newly released 48-page picture book commemorates the 2012, 90th anniversary of publisher Shogakukan (home of Shonen Sunday, Big Comic and Ikki, partial owner of Viz).
Urasawa illstrates the Kosuke Hamada written story of lonely Red Oni, divided between the advice of a Blue Oni and the kindness of good-hearted villagers.
via Comic Natalie