First episode airs Monday March 5, 2012 at 11 am PST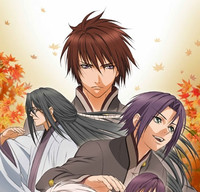 Crunchyroll is kicking off its spring season of anime early with Hiiro no Kakera, based on the visual novel created by Idea Soft and animated by Studio DEEN. A supernatural tale, with strong bishonen elements, the first episode of Hiiro no Kakera airs Monday March 5, 2012 at 11 am PST.
Here's the official synopsis:
"One day, Tamaki Kasuga decides to move to her grandmother's house, away from her family, out in a remote village. However, the real reason why Tamaki is called to the village is to continue a mysterious ancestral duty and mission. As her destiny starts to unfold, will she be able to stand strong against the forces before her…"
Hiiro no Kakera will be available in the following territories: U.S.A., Canada, United Kingdom, Ireland, Australia, New Zealand, Sweden, Denmark, Norway, Finland, Iceland, Netherlands, Brazil, and Portugal.