Concert heralding US debut of virtual idol Hatsune Miku held during Anime Expo convention in 2011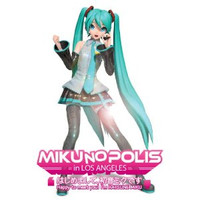 The Japan Digital Media Awards were held earlier this month in Tokyo and Crypton Future Media's creation in Hatsune Miku was the big winner, snatching up the Grand Prize for the "Mikunopolis in Los Angeles: Happy to meet you, I'm Hatsune Miku" concert held during the Anime Expo convention last year. The actual concert garnered national media attention for its use of real-time projection to generate Hatsune Miku's 3D model along with a novel stage presentation to maximize the 3D effect.
Image ©AMD/Crypton Future Media via Facebook
The awards committee had this to say about the award being given to Crypton Future Media and Sega in regards to the concert:
"Hatsune Miku" is the name of singing synthesizer software released in 2007, but it became popular as virtual idol "Hatsune Miku" through co-creation by creators, via music, illustration and music videos. Hatsune Miku spread to the world not by commercial means, but by user generated media, and a successful LA concert at Nokia Theatre full of excited fans. Hatsune Miku is now an international idol, used in commercials for TOYOTA USA and Google Chrome. This award is given to Hatsune Miku to celebrate the achievement of a successful overseas concert, and the hope for more overseas concerts in the future."
Anyone out there get to go to the concert last year and think it deserves the grand prize?
via AnimeAnime.biz and Facebook