Samurai epic currently in post-production for November release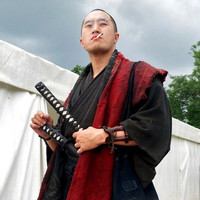 Atticus Ross, producer/programmer for four Nine Inch Nails albums, and partner with the band's Trent Reznor on the soundtracks of The Girl With the Dragon Tattoo and Oscar-winning The Social Network, has signed on to score the new Hollywood adaptation of the classic samurai revenge story 47 Ronin.
Other Ross credits include the Hughes Brothers' Touching Evil, (alongside his wife and brother, Claudia Sarne and Leopold Ross) as well as The Book of Eli.
The 3D 47 Ronin is currently in post-production for a November, 2012 release. The epic, directed by Carl Erik Rinsch (short The Gift), based on a script by Hossein Amini (Drive) and Chris Morgan (The Fast and the Furious: Tokyo Drift, Wanted) stars Keanu Reeves, Rinko Kikuchi, Hiroyuki Sanada, Kou Shibasaki, Jin Akanishi, and Tadanobu Asano.
Keanu Reeves plays half-Japanese/half-British outcast Kai, a character created specifically for the film. Hiroyuki Sanada, the guy who smashed Tom Cruise's skull with a bokken in The Last Samurai, is Oishi, the leader of the 47 disgraced ronin, with Thor and Gohatto/Taboo star Tadanobu Asano as the villainous Lord Kira.
While the 47 Ronin or Chushingura informed notions of samurai ethic in Japanese culture, Atticus Ross' involvement invites some speculation about how liberal an interpretation this adaptation will be.