First video game adaptation of the popular series since Commodore 64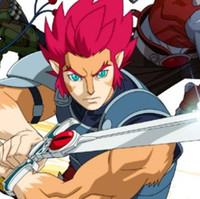 It seems like this a great week for fans of old-school style video games based on nostalgic cartoon properties. Okay, so the upcoming ThunderCats by Namco Bandai (developed by Naruto: Ninja Council dev Aspect Digital) is based on the newer cartoon, with the girly Lion-O voiced by Eric from Boy Meets World, but it's still good news.
Closely following the storyline of the new series, the game starts in Thundera during the invasion of Slythe's lizard army. As a side-scrolling hack-and-slash actioner, you'll play solely as Lion-O, but you can use the touchscreen to call in Tygra, Cheetara, Panthro, and the tag-team of WilyKit and WilyKat for assists. Building up the Sword of Omens' power gives you a power-up on the touchscreen to unleash a massive beam of destruction.
Some of you may be wondering why ThunderCats is headed to the DS instead of the 3DS--a Namco Bandai representative has a pretty simple answer. Parents would probably be buying ThunderCats for their kids, and more kids have DSes than 3DSes. 3DS fans have a backwards-compatible system to enjoy it on, and fans of old-school styled games tend not to care what system something is on as long as it's good.
The last time I remember a ThunderCats video game, it was for the Commodore 64, so I'm pretty stoked for this. What about you? Are you going to be screaming "THUNDERCATS, HO" at your DS this coming August?
via Siliconera