Both to be animated by XEBEC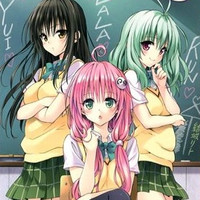 Further adding fuel to the "How are they going to air it?" fire, the 19th issue of Jump Square, on sale 4/19, reveals that the previously announced anime adaptation of To Love-Ru Darkness is actually going to be both a TV series and an OAD.
The OAD (original anime DVD) will be released with the limited edition 5th volume of the manga which goes on sale on August 17th for 3610 yen (~$45 USD). The DVD will contain three mini-episodes totaling about 24 minutes: Episode 0 "Prologue ~Project Begins" and two extra stories "Pollen Plan ~Dangerous Sister Love Affair~" and "Body Touch? ~Nyanderful Life~."
There will also be a TV series which will air sometime after the OAD is released, but is not specifically dated. Both the OAD and the TV series will be animated by XEBEC with Motto To Love-Ru staff Atsushi Ootsuki directing and Yuuichi Oka doing character designs.
Source: To Love-Ru Love (NSFW) via Yaraon!
Image ©Kentarou Yabuki, Saki Hasemi / Shueisha