Volume 6 to be released in Spring 2013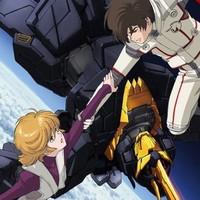 At the "Gundam Live Entertainment: Mobile Suit UC Film&Live 2012 Reader's Theater 'hand in hand'" event held earlier today to promote the upcoming release of episode 5 of Gundam Unicorn, it was revealed that a seventh volume of Gundam Unicorn will be produced.
Along with a poster advertising the sixth volume which is now titled "宇宙と地球と" (which appears to be read "Sora to Hoshi to") in "2013 Spring," another poster advertised a never previously announced seventh volume titled "The Final" coming "In the near future." A postcard version of volume 6's poster and the poster for volume 7 can be seen below:
Multiple unconfirmed reports also claim that the seventh volume will be over an hour long.
Gundam Unicorn was originally announced to be six volumes in total back in 2009. The fifth volume comes out on June 8th.
via Yaraon
Image ©SOTSU, SUNRISE