3rd single "Kaze ga Shitteru" hits stores on February 12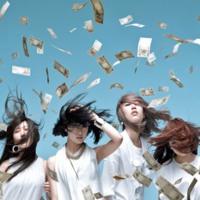 The official YouTube channel for four-member girls rock band Akai Koen has posted a short version promotional video for their third single "Kaze ga Shitteru" (The Wind Knows). The song is now featured as the ED theme for a 2014 winter TV The Pilot's Love Song. The PV was filmed in a studio in Kanagawa Prefecture last month. For the PV and photo of the CD single, they used real 1,000 ten-thousand yen bills (10 million yen total) to be tossed in the air by the electric fans. The CD single coupling with "Hitsujiya-san," the theme song for the 2013 December film Juho 2405 Watashi ga Shinu Riyu: The Movie, will be released in Japan on February 12.
The Pilot's Love Song is now available to users in the following territories: United States of America, Canada, South Africa, Australia, New Zealand, Central America, South America, United Kingdom, Ireland, German speaking Europe, Sweden, Norway, Finland, and Denmark.
The CD single jacket
Source: Nikkan Sports
© Akai Koen