Nintendo announces new characters, modes, and more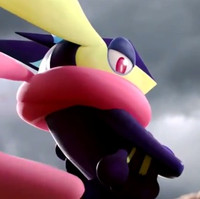 Update: Headline fixed!
As promised, Nintendo delivered a Direct presentation focused entirely on Super Smash Bros. While a precise release date wasn't announced, Nintendo did offer launch windows for both platforms. Super Smash Bros. is set to arrive on Nintendo 3DS in summer 2014, with the Wii U version to follow in winter 2014.
The 3DS version runs at 60 frames per second, all in stereoscopic 3D, and will be receiving an exclusive "Smash Run" mode. In this mode four players have five minutes to enter a dungeon and explore, fighting enemies and grabbing power-ups to enhance their characters along the way. Once the five minutes are up, the four fighters enter a battle arena and duke it out with their new items and power-ups.
A brand new character was announced with the addition of Greninja, the final evolution of Froakie from Pokémon X and Pokémon Y. He joins some returning challengers, including Zero Suit Samus and Sheik, both as unique playable characters this time; Yoshi, who fights standing completely upright; and Charizard, who is now a selectable character.
Here are the rest of the details straight from Nintendo, from online play—including "For Fun" and "For Glory" battle modes—to interactive boss characters in stages, new assist trophies, and more.
Online play: Both the Wii U and Nintendo 3DS versions of Super Smash Bros. will offer online multiplayer game play with other players on the same platform. Players with broadband Internet access can battle it out with anyone else who is online and also has the game.

When playing with random players online, two modes are available: "For Fun" and "For Glory." In "For Glory," only Final Destination stage variations are available. There are no platforms, elevated areas or items in this mode. It is a nice, clean battle between characters. In "For Fun," all stages are picked randomly and all items and power-ups are available.
When playing with friends, full customization is available – players can set the rules, stages and items however they want.

Variety of stages: While the cast of playable characters is the same in both versions of the new games, the stages where the battles take place are vastly different, depending on which system a player chooses. The Wii U stages are primarily based on past home console games, while the Nintendo 3DS stages draw from hand-held games for inspiration.

Boss characters, such as the Yellow Devil in Dr. Wily's Base, will make appearances in some stages. When bosses appear, fighters will have to battle the boss, as well as one another. The boss can even be used in strategic ways to damage other fighters.
Almost all the stages in both versions of the game will have a "Final Destination form," an alternate form of each stage that is inspired by the relatively simple layout of the much-loved Final Destination stage.

Items, trophies and Pokémon: Items, assist trophies and Poké Balls all return in Super Smash Bros.for Wii U and Nintendo 3DS. New to the games are Master Balls, special Poké Balls that contain Legendary Pokémon like Arceus and Xerneas.
Get connected: There will be elements in Super Smash Bros. that link both versions of the games. More details about this will be revealed at a later date.
Custom moves: In a series first, players can now customize move sets when playing locally or online with friends. More information about this feature will be announced in the future.
-------
Joseph Luster is the Games and Web editor at Otaku USA Magazine. His blog can be found at subhumanzoids. Follow him on Twitter at @Moldilox.