Appeared on MBS's documentary profile series Jounetsu Tairiku prompts talk of production shutdown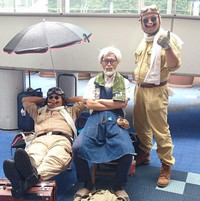 Studio Ghibli co-founder, producer and former president Toshio Suzuki appeared on MBS's documentary profile series Jounetsu Tairiku this weekend, and made comments that suggest that fundamental changes may be underway at the revered studio.
Japanese viewers who caught the show took to social media to report that Suzuki indicated that, following disappointing results for recent projects, such as the third place opening of this summer's When Marnie Was There, the studio is moving to halt production while changes are made to the staffing on its production department. Whether this would mean an end to Studio Ghibli's movies, or a change to freelance and outsourced staff was not clear.
Stoking fears of the former option is comments that Suzuki and Hayao Miyazaki made to Cut magazine in 2010. While discussing a Porco Rosso "Last Sortie" sequel, Miyazaki said:
"I'm not thinking about a movie of a girl." "I think that I must think about only a movie of a boy." "I do not need to make a movie if it is not a tragic story of a boy." "So I want to escape to "Porco Rosso: The Last Sortie". I have all its materials." "It should be interesting." "It is set for Spanish Civil War." "If next two films succeed and [studio president Toshio] Suzuki-san lets me make it (Porco) while saying, 'It cannot be helped because it's a hobby of the old man', I'm happy. It's my hobby."
... And if the studio fared poorly, he and Suzuki developed a "dissolution program for Ghibli." "For example, Ghibli should be able to continue with about five staff members as a copyright management company even if we smash the studio. So, Ghibli can say 'We stop film production. Goodbye'. I do not have to be there."
According to Catsuka, the road forward is:
According to my informations they will keep a small staff for Hayao Miyazaki projects.
And also the "Momonoma" department, which is Yoshiyuki Momose staff for production of commercials, music videos …
Momonoma artists are already freelance, and this is the reality : most of Studio Ghibli staff today are employees, with long term contracts.
Studio Ghibli can't pay this staff if there's no more Hayao Miyazaki and Isao Takahata (expensive but profitable) movies on the way.
Ghibli cost too much today, so they're just stopping the current system.
Before Porco Rosso, Studio Ghibli staff was freelance.
They're coming back to this previous system.
It's a restart, like Hoshino and Suzuki said.
Now they will focus on licensing, and Ghibli Museum.
And wait for new viable projects.
Rakuten Woman stoked a round of Studio Ghibli shutdown talks the week before last by quoting a source who made similar comments about the production department.
via yaraon @catsuka and @tsk06
thumbnail via Kazma_K