A whole new bushel of games headed for release this year!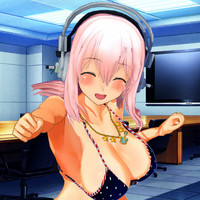 JAST USA has just announced two upcoming releases during Anime Expo that visual novel fans are going to be excited for: SoniComi and Flowers - Spring Arc.
Nitroplus' Communication With Sonico title features Super Sonico, Nitroplus' mascot, and players will be vying to become professional cameramen in the game while working with idol Sonico. JAST USA will be releasing SoniComi this winter, but in the meantime you can always watch her special anime series to get familiar with Sonico herself.
Innocent Grey's Flowers - Spring Arc PC game is a little different, a mystery game that follows protagonist Suou who attends an all-girls boarding school to investigate a bizarre program that pairs students with "Amity," who they're required to become friends with. It's releasing in Japan in four parts and JAST USA will be releasing it this fall.
But that's not all -- JAST USA has also announced that both Shiny Days, an update of the School Days spinoff Summer Days, as well as Lightning Warrior Raidy III will be ready for release soon, with Raidy coming in July and Shiny Days in August. JAST USA will also release Seinarukana in September.
Which game are you more excited for?
[via Anime News Network]
-------
Fueled by horror, rainbow-sugar-pixel-rushes, and video games, Brittany is a freelancer who thrives on surrealism and ultraviolence. Follow her on Twitter @MolotovCupcake and check out her portfolio for more.