6th single "Hiryu no Kishi" hits stores February 10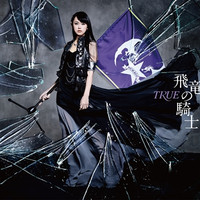 Lantis today posted a short version music video for 32-year-old anison singer TRUE's 6th single "Hiryu no Kishi" (The Knight of Flying Dragon), which will be featured as the OP theme song for the upcoming TV anime adaptation of Senri Akatsuki's fantasy light novel series Saijyaku Muhai no Bahamut/Undefeated Bahamut Chronicle. The lyrics of the song is written by herself as Miho Karasawa, with Tsukasa Yatoki (ArteRefact) composing. The CD single is set for a release in Japan on February 10.
The TV anime Undefeated Bahamut Chronicle will premiere in Japan on January 11.
"Hiryu no Kishi" short MV
CD jacket
"Undefeated Bahamut Chronicle" 2nd PV featuring the OP song
© Senri Akatsuki, Sb Creative/Undefeated production Committee
© Lantis