After story novel will be published on March 30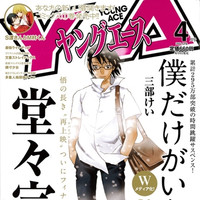 The serialization of Kei Sanbe's Bokudake ga Inai Machi/ERASED manga finally ended in the April 2016 issue of Kadokawa's Young Ace published today in Japan. A total print run of the previous seven tankobon volumes has reached 2.95 million copies, and its last eighth volume is scheduled to be released on May 2.
Kadokawa has also announced its spin-off series, tentatively titled "Bokudake ga Inai Machi: Gaiden," will start in the magazine's upcoming July issue to be published on June 4. It will be an episode collection which were not told in the main manga story.
Also as reported, "Boku Dake ga Inai Machi: Another Record," a spin-off novel which tells the after story of the main manga and explains the real motive of the killer, will be released in Japan on March 30. Nitroplus' Hajime Ninomae, who previously wrote the novel adaptation of the Puella Magi Madoka
Magica TV anime series, works on the 232-page book.
Young Ace April 2016 issue cover
CM
Ad for the spin-off manga series and 8th tankobon
"Boku Dake ga Inai Machi: Another Record" main visual
Manga 1st and 7th tankobon covers
Source: press release