Three-episode OVA was animated by Brain's Base in 2014 and 2015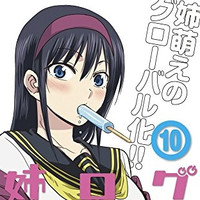 The 20th issue of Shogakukan's Weekly Shonen Sunday, which was officially published today in Japan, announced that the serialization of Kenji Taguchi's Ane Log: Moyako Neesan no Tomaranai Monologue (Older Sister Moyako's Never-ending Monologue) comedy manga will end in its next 21st issue to be released on April 20. The manga is told through the point of view of Moyako Konoe who believes his little brother Akira secretly has deep affection for her, which is more than just a brother and sister relationship. Only the latest chapter in the 20th issue, it was told by Akira for the first time.
Its weekly serialization started in the magazine's 42nd issue of 2012, and the latest 11th tankobon volume is set for a release on May 18. Brain's Base animated its three-episode OVA which was bundled with the special editions of the manga's 5th, 6th and 7th tankobon volumes released in September 2014 to April 2015. Ami Koshimisu (Hibiki Hojo/Cure Melody in Suit PreCure♪) voiced Moyako, alongside Takahiro Mizushima (Jun Shiratori in Boku Dake ga Inai Machi) as Akira.
Tankobon 1st and 10th volume covers
OVA 1st episode legitimately posted by Club Sunday's official YouTube channel
via: Mantan Web
© Kenji Taguchi/Shogakukan