Keitaro Motonaga (Digimon Adventure tri.) serves as director for PRA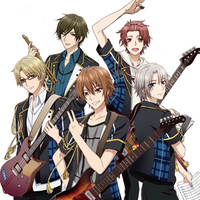 Following the first two introducing SolidS and QUELL revealed at the S.Q.P 2017 SUMMER event in July, two new key visuals introducing SOARA and Growth, other two of the four main boys units in the upcoming TV anime TSUKIPRO THE ANIMATION, were revealed at the A.L.P 2017 SUMMER event held at Saitama City Cultural Center yesterday, August 13. It was also announced that the TV anime featuring a total of 17 idols is set to premiere on Tokyo MX on October 4, 2017.
This is the second TV anime inspired by the music/drama CD series featuring male idol characters who belong to the fictional Tsukino Talent Production, released by Movic. While the first series Tsukiuta. THE ANIMATION featuring the members of Six Gravity and Procellarum aired for 13 episode July to September 2016, TSUKIPRO THE ANIMATION focuses on SolidS, QUELL, SOARA, and Growth. See the anime character visuals below.
SOARA
Members:
Nozomu Nanase : Chiharu Sawashiro
Sora Ohara: Toshiyuki Toyonaga
Soshi Kagurazaka: Makoto Furukawa
Ren Munakata: Taishi Murata
Morihito Arihara: Yuuki Ono
Growth
Members:
Mamoru Fujimura: Junta Terashima
Koki Eto: Shun'ichi Toki
Kensuke Yaegashi: Yoshitaka Yamaya
Ryota Sakuraba: Daiki Yamashita
SolidS
Members:
Dai Murase: Yuichiro Umehara
Tsubasa Okui: Souma Saito
Shiki Takamura: Takuya Eguchi
Rikka Sera: Natsuki Hanae
QUELL
Members:
Shu Izumi: Shunsuke Takeuchi
Eichi Horimiya: Kotaro Nishiyama
Issei Kuga: Shugo Nakamura
Ichiru Kuga: Sho Nogami
---
The TV anime plans to have four different OP movies featuring each units. At the A.L.P 2017 SUMMER
event, a short footage from the one featuring SOARA was screened for the fans.
今回はチラ見せですが、3Dによる細部までこだわったバンド映像、アニメ本番をお楽しみに!#プロアニ pic.twitter.com/YFvxBPpLIw

— プロアニ公式 (@tsukipro_anime) 2017年8月13日
"TSUKIPRO THE ANIMATION" PV screened at the S.Q.P 2017 SUMMER event
Source: Animate Holdings press release
(C)TSUKIPRO (C)PROANI