Saturday's industry panel was loaded with big news for fans.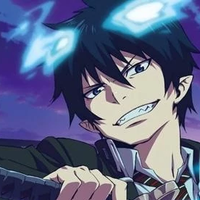 Saturday's rapid-fire Aniplex industry panel on the CRX stage was loaded with Blu-Ray box announcements, exclusive videos, and prize giveaways. (Sadly, no Saint Quartz.)
The team covered upcoming Crunchyroll releases, as well as giving a solid lineup for big BD box sets, most of which you can preorder right now.
Currently Available:
For the first time ever, MAGI: The Kingdom of Magic is available for purchase on Blu-Ray. Volumes 1 and 2 are both out now.
Also, a massive Gurren-Lagann tenth anniversary BD box is currently on sale. The set includes the entire series in both Japanese and English, the unaired alternate episode six, and both films in Japanese with English subtitles.
Attendees were also treated to an anniverary video featuring appearances from the English voice cast, as well as dub producer and localization legend Tony Oliver.
Coming Soon:
Dual-language BD boxes of seasons 1 and 2 of Blue Exorcist are on the horizon, with Volume 1 available to order now. The first box comes out November 14, and the second hits on February 13, 2018.
Aniplex also announced that the Kyoto Saga dub will begin streaming on Hulu starting September 1.
Occultic;Nine hits BD in a pair of dual-language boxes coming out September 26 and December 26. Both include deluxe booklets and pinup cards taken from the end credit illustrations.
Fans of www.WAGNARIA!! can pick up BD box 1 now. The second volume follows on October 17.
On October 31, anohana will be available in a single BD box, dubbed into English for the first time. The set contains a 60-page booklet, textless OP/ED, English dub bloopers, and more. Fans at CRX can also swing by the Aniplex booth for special anohana tissues for those extra-weepy scenes.
Kizumonogatari fans can preorder the third box set right now, with a release date of November 21 set. The box will include a soundtrack CD, deluxe booklet, pinup postcard set, and new box design by character designer Akio Watanabe. Volumes 1 and 2 are already available.
Coming December 19 is the full BD box of Koyomimonogatari. The set includes the 12 shorts, a PV/CM collection, deluxe booklet, and a new Watanabe-designed box. Preorders are now open.
Also available for preorder for a December 19 release is Sword Art Online the Movie -Ordinal Scale-, in either standard or limited edition. The limited edition box will include Japanese commentary tracks, the special animation Sword Art OFFline Ordinal Scale, a music CD, and a special booklet. The TV series is also available, featuring commentary and a mini-poster.
New Series:
Aniplex premiered four new trailers for upcoming US licensing:
Blend S: Based on the four-panel manga about a maid cafe with a very odd roleplay style, coming this October.
Record of Grancrest War: A new fantasy series from Ryo Mizuno, the creator behind Record of Lodoss War. Coming January 2018.
Fate/Apocrypha: The anime adaptation of the saga's newest iteration will begin an English-subbed run on Netflix in October.
Fate/Grand Order -First Order-: The anime linked to the smartphone RPG will be available on October 24, with preorders open now. The box will include a deluxe booklet and soundtrack.
Speaking of Fate/Grand Order:
For those who are caught all the way up to Septem, don't worry -- the Third Singularity, Okeanos, is in the works and set to be released soon. A brand new Servant will also be available to summon (pictured above).
Additionally, expect a pickup event soon where you have a chance at Sakata Kintoki (Berserker version), Saint Martha, and Saber Alter. No specific dates have been confirmed for these.
As mentioned previously, fans were also treated to an exclusive Heaven's Feel trailer!
-----
Kara Dennison is responsible for multiple webcomics, blogs and runs interviews for (Re)Generation Who and PotterVerse, and is half the creative team behind the OEL light novel series Owl's Flower. She blogs at karadennison.com and tweets @RubyCosmos.