The author says, "It has been a pleasure for me to draw the world of Magi for such a long time."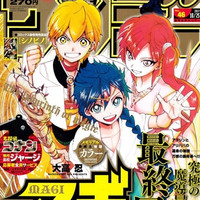 The last 369th chapter of Shinobu Otaka's fantasy action adventure manga Magi: The Labyrinth of Magic was published in the latest 46th issue of Shogakukan's Weekly Shonen Sunday released today on October 11 in Japan, finally ending its eight-year serialization in the magazine. To commemorate the conclusion, the manga was featured in the cover and the opening pages of the issue.
The cover of Shonen Sunday 46th issue
少年サンデー46号は本日発売です!
●8年間の大冒険、ついに終着へ…万感の最終回!!![マギ]
●新シリーズ開幕センターカラー[サイケまたしても]
●単行本発売記念センターカラー[天使とアクト!!]#少年サンデーhttps://t.co/EgwvrJMDtT pic.twitter.com/dBAYEnM24T

— 少年サンデー編集部 (@shonen_sunday) 2017年10月11日
Magi was the first serialization series in the magazine for the author, previously known for Sumomomo
Momomo: The Strongest Bride on Earth (Square Enix's Young Gangan/2004-2009). It started serialization
in Weekly Shonen Sunday in its 27th issue of 2009, and had printed over 23 million copies by April 2016.
It has been adapted into TV anime twice, the first series Magi The labyrinth of magic (25 episodes/October
2011-March 2012) and the second Magi The kingdom of magic (25 episodes/October 2013-March 2014).
And its spin-off series Adventure of Sinbad also got a 13-episode TV anime adaptation in April-July 2016.
---
Following the 36th volume on October 18, the manga's final 37th tankobon volume is scheduled to be
released on November 17. Web Sunday's "Back Stage" section has posted a cover art for the volume
with the author's message to the fans as below:
"The image is the cover art for Magi's final 37th volume to be released in November.
Magi will have its final chapter this week.
It has been a pleasure for me to draw the world of Magi for such a long time as eight years.
I think it has had some flaws, but I am happy if everyone can enjoy it as much as possible.
I think shonen manga is something to be forgotten gradually as readers growing to adulthood.
Even so, I am hoping that Magi will become such a title for everyone that is remembered sometimes
and encourages them in their busy daily life.
I wish Magi's characters will always be with you from now on!
Thanks to those who have sent me messages and letters as the last chapter approaches!
I am reading them while pondering that I am so happy to be a manga artist.
I will keep them very carefully.
This is my last 'Back Stage' update for Magi, but I hope to see you again! "
"Magi" tankobon 1st and 36th volume covers
Source: Web Sunday
(C) Shogakukan Inc. Shinobu Otaka 2017