Its TV anime adaptation is now available on Crunchyroll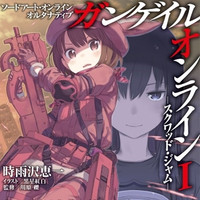 Kadokawa announced on April 29 that Keiichi Sigsawa's light novel series Sword Art Online Alternative Gun Gale Online will surpass one million copies in print in Japan after the next additional printings on May 9.
The spin-off series by the Kino's Journey team, writer Sigsawa and illustrator Kouhaku Kuroboshi, is inspired by the MMOFPS "Gun Gale Online" appeared in the fifth and sixth volumes of Reki Kawahara's Sword Art Online series, which Sigsawa joined as a combat arms supervisor. It has released six volumes from the publisher's Dengeki Bunko imprint since December 2014 and its next seventh volume is scheduled to be released on June 9.
Keiichi Sigsawa (writer):
"I am so happy to surpass one million copies. Thanks everyone who loves this novel. And I cannot
lie down at night with my feet toward Reki Kawahara-san, who gave me permission to use the world of
'Sword Art Online." So I am always worries about my feet's direction in bed." (It is a bad manner in Japan
to lie down with your feet toward any one.)
Kouhaku Kuroboshi (illustrator):
"Congratulations for the one million-copy record. Thank you so much! I appreciate for everyone who has
helped and supported us. Please continue to support the pink devil-chan who has been becoming scarier."
Novel 1st and 6th volume covers
---
The TV anime adaptation of the novel Sword Art Online Alternative Gun Gale Online premiered in
Japan April 7, and has been also available to Crunchyroll members in North America, Central America,
South America, Australia, New Zealand, UK, and Ireland.
PV
Key visual
Source: Kadokawa press release
(C)2017 Keiichi Sigsawa/KADOKAWA Ascii Media Works/GGO Project