ZERO-G (My Roommate is a Cat)-produced comedy is slated for 2019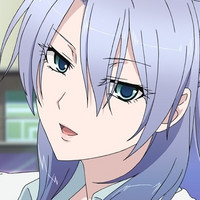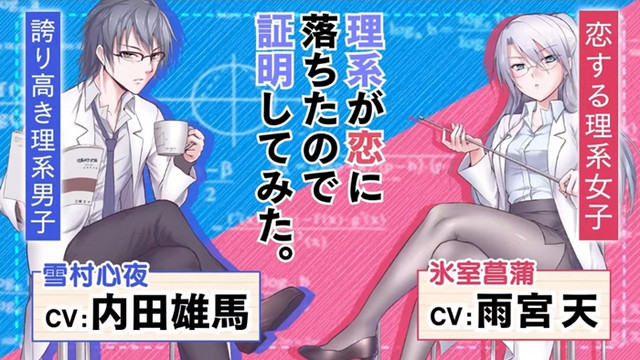 After the announcement for the two main anime voice cast yesterday, COMIC Meteor's official YouTube channel posted a 30-second CM for the latest sixth volume of Arifred Yamamoto's romance comedy manga Rikei ga Koi ni Ochita no de Shoumei Shite Mita. (Because the science course fell in love, we have mathematically proved it.), Rikekoi for short, narrated by non other than Sora Amamiya and Yuma Uchida as their characters: Ayame Himuro and Shinya Yukimura.
The sixth volume is set to be released in Japan tomorrow. How do you like their voices?
Ayame Himuro: Sora Amamiya: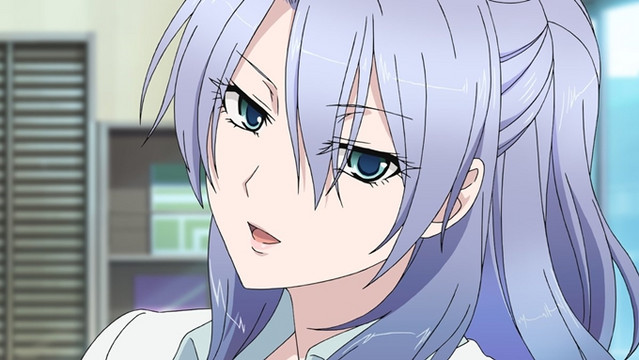 Shinya Yukimura: Yuma Uchida: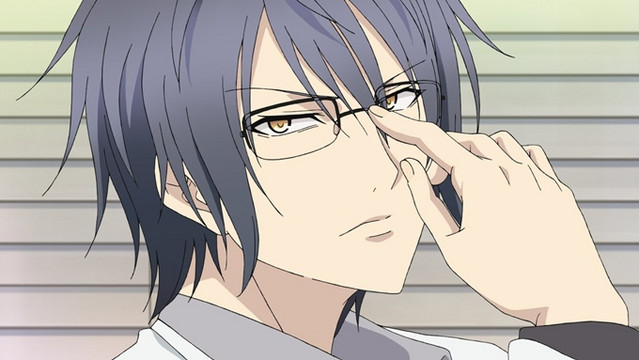 .
【第6巻PV】
7月12日(金)発売!
「理系が恋に落ちたので証明してみた。」第6巻

雪村役:#内田雄馬 さん
氷室役:#雨宮天 さん

に声をあてていただいて、
PVを作らせていただきました。

幸せホルモンオキシトシンボイスを
ご堪能あれ。本編リンク先をチェック!https://t.co/CSerIAyXst #リケ恋 pic.twitter.com/IzkTokP0OK

— 『リケ恋』アニメ&漫画公式 ドラマ化、映画化 (@rikeigakoini) 2019年7月10日
---
The TV anime adaptation is directed by Toru Kitahata (Hinako Note), alongside series composition writer Rintaro Ikeda (Magical Sempai) and character designer/chief animation director Yusuke Isouchi (One Piece, PreCure series animation director). ZERO-G (My Roommate is a Cat)-animated series is set to premiere in Japan sometime in 2020.
.
Main voice cast: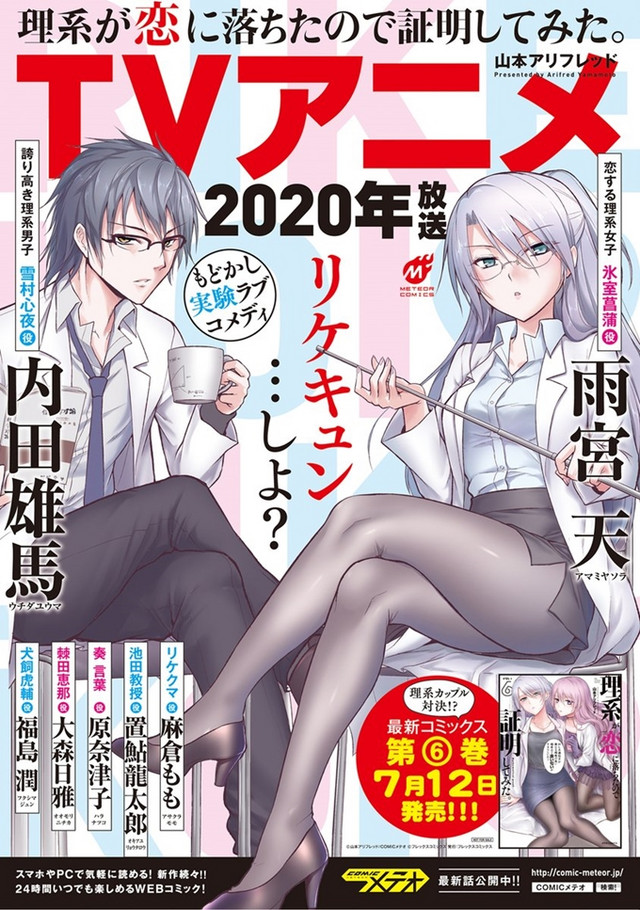 ---
Source: TV anime "Rikei ga Koi ni Ochita no de Shoumei Shite Mita." official website
©2019 Arifred Yamamoto / COMIC Meteor